COMMENT

By
Wayne Veysey
at Wembley
Fortune favours the brave. Courage has not always been Roy Hodgson's foremost quality as a coach, but credit where it is due.
On one of the biggest nights of his managerial career, he made several ballsy selection calls and they all paid off.
TOWNSEND SHINES ON DEBUT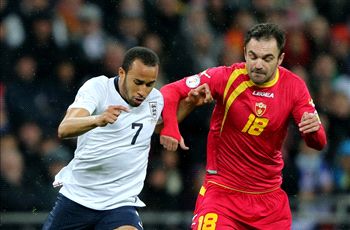 PLAYER RATING VS MONTENEGRO






A perfect international debut for the Tottenham winger as he produced a man-of-the-match display and capped it with a tremendous goal. His fearless running caused Montenegro all sorts of problems and forced the opener, while his fine 25-yard strike with his weaker right foot wrapped up the points.
FROM OUR LIVE! COMMENTARY


GOAL! And that has capped a dream debut for Andros Townsend. The winger picks the ball up and from 25 yards and lets rip after cutting onto his right foot, slamming it past Poleksic. What a moment for the Spurs ace!
Andros Townsend fully justified his call-up with a man-of-the match, goal-scoring debut, the Steven Gerrard-Frank Lampard alliance provided stability and experience, Danny Welbeck was a nuisance on the left flank and Joe Hart made a crucial save with the game in the balance.
For good measure, strikers Wayne Rooney and Daniel Sturridge hit it off in a manner that suggests international defences might have to prepare for some sleepless nights in the future.
England being England, there was the odd twitchy moment, particularly when Dejan Damjanovic pulled it back to 2-1.
But Hodgson's team did not retreat into their shell, as they might have done, with 19 minutes remaining on the clock.
They continued to pour forward and Townsend soon restored their two-goal advantage to make the game safe, with a third strike that the authority of England's performance fully merited.
The replays showed Hodgson responded with a little celebratory jig while appearing to mouth the words 'you f***** beauty'.
For good measure, Sturridge won and then converted a penalty in added time to give the scoreline a rare sheen.
Yet 4-1 did not flatter England. There was a vibrancy and purpose to their play that has usually been absent under Hodgson against opponents with a semblance of a cutting edge.
With goalkeeper Mladen Bozovic, centre-back Marko Basa and captain Mirko Vucinic absent through injury, and star man Stevan Jovetic feeling his way back to fitness, this was admittedly a watered-down version of Montenegro.
But that should not take the gloss off the most rewarding evening of Hodgson's England tenure since the national team came from behind at Euro 2012 to beat Sweden 3-2.
The manager backed up his ebullient pre-match rhetoric with what was, by his standards, an adventurous selection. Townsend and Welbeck, both 22, started on the flanks, either side of front pair Rooney and Sturridge.
It paid handsome dividends. All four posed different problems for the visitors. Three of them scored, and Welbeck would have joined Rooney, Townsend and Sturridge on the scoresheet if his contribution inside the box matched that outside it.
Townsend was wonderfully fearless, running at Montenegro's defence with pace and complete faith in his capacity to cause damage. So he did.
The Tottenham man set up the opener for Rooney with a galloping run down the right that began in his own half and all but sealed the victory after darting into space and clinically finishing the third goal when the game was still on a knife-edge.
"He made a big impact," said Hodgson. "He got the man-of-the-match and fully deserves the praise that will come his way. It can't be easy making your debut in a game of that nature but he played very well. He played with a calmness and coolness that I've seen at QPR and Tottenham."
Rooney and Sturridge had played a grand total of 33 minutes together before the penultimate of England's World Cup qualifiers but a visible chemistry was apparent between the pair at a near sell-out Wembley.
Sturridge's finishing was wayward but he has the pace and tricks to match his cocky certainty. With Lampard and Gerrard sat on the subs bench reflecting on a job well done, the Liverpool striker leapfrogged Rooney in the pecking order to take on spot-kick duties in added time.
Neither Sturridge or Townsend looked in the slightest bit inhibited by the Three Lions shirt.
Hodgson would have been castigated had his battle-hardened central midfield veterans slumped at Wembley after the youthful claims of the admittedly below-par Jack Wilshere had been overlooked.
But Gerrard led from the front, getting forward more often than he does for his club these days, while Lampard provided solidity and savvy defence-screening.
Hodgson was rewarded for urging his team to go on the attack. Afterwards, the manager was defensive about the accusations of over-caution that have accompanied his reign.
"I think we've been picking young players all along," he observed. "People need to think beyond the immediate with these things and I've been a bit unlucky that some players have been unavailable. People like Welbeck, Sturridge and Wilshere have been involved in the whole campaign."
For Hodgson and England, it all came right on the night. To avoid the last resort of the play-offs next month, something similar is required against Poland back at Wembley on Tuesday.
There is a growing feeling that Hodgson will have the courage of his convictions and make the decisions required to deliver top spot in Group H.
Follow Wayne Veysey on