TACTICAL ANALYSIS
By Kris Voakes | Italian Football Writer
Pundits questioned it, neutrals were left puzzled, even Milanisti were sceptical. There were few people who greeted the news that Milan had swapped Antonio Cassano and a bucket load of cash for Inter's Giampaolo Pazzini with recognition that the Rossoneri had done a good deal. Yet the Italy international's hat-trick against Bologna on his starting debut at the weekend has given a glimpse of what could be if Milan can play to the striker's strengths.
It was only one game, and his first two goals came with a huge dollop of fortune, but Pazzini's thirst in front of goal – not seen since his early days across the city with the Nerazzurri – impressed fans and critics alike. Now Massimiliano Allegri needs to recreate the conditions in which the former Fiorentina man has thrived during his career if he is to get 20 or more goals out of the player brought in to replace Zlatan Ibrahimovic.
SAMPDORIA SUCCESS STORY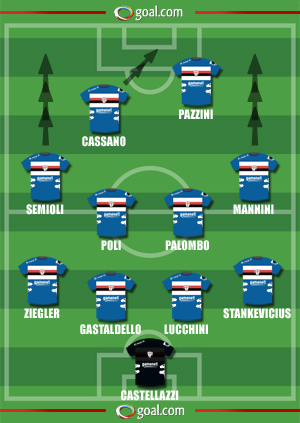 WING WIZARDS: Wide men helped Cassano tee up Pazzini

Following mixed spells with Atalanta and the Viola, it was at Sampdoria that Pazzini first really excelled over a significant period of time. Signed in January 2009 to complement Cassano in the attack, the move could hardly have gone better. In Pazzini's one full season, the pair combined to shoot the Blucerchiati to a shock Champions League play-off spot.
Playing ahead of a superbly disciplined four-man back line, the Samp midfield offered fantastic strength and support as well as providing the width which allowed Cassano and Pazzini to make hay against stretched opposition defences forced to drop deep. With the tenacious Andrea Poli and Fernando Tissone sharing one spot in the centre alongside Angelo Palombo, the creativity came from Daniele Mannini on the right and either Franco Semioli or Reto Ziegler on the left, with the wingers encouraged to reach the bye-line and send opposing defences back into their own area.
This meant that Pazzini would often be supplied with crosses from either wing, while Cassano could pick up the ball in advanced positions as well as collecting it from distance on the break. In either situation, his first instinct would be to look for Pazzini, who was suddenly being supplied from a number of angles around the area. It was the sort of service he had never received on a regular basis at either Atalanta or Fiorentina.
When Inter paid €12 million for his services after two years in Liguria, he walked into a side offering a very similar setup. With Diego Milito struggling to recreate his majestic form of 2009-10, Pazzini was thrown in alongside Samuel Eto'o, who was developing a real knack as a support striker following his spell playing on the left of attack under Jose Mourinho.
With Leonardo's side offering little to no width in midfield, it was from the full-back positions that the depth of attack came down the flanks, with Yuto Nagatomo and particularly Maicon given the licence to get forward. The natural nervousness of the opposition coming up against the European champions also contributed to Pazzini regularly coming up against deep defences, allowing him to again thrive on regular service into the penalty area. By the end of his first half-season, he had netted 11 goals in 17 league games.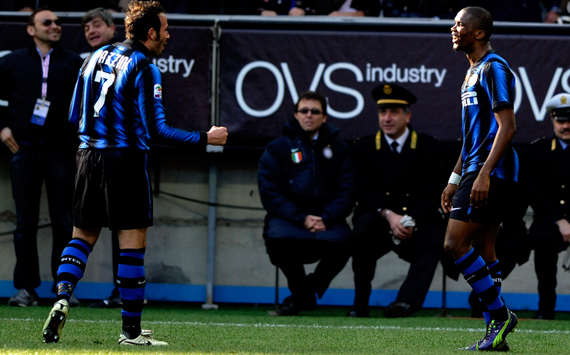 Scoring for fun | Alongside Eto'o, Pazzini could seemingly do no wrong in front of goal
ISSUES AT INTER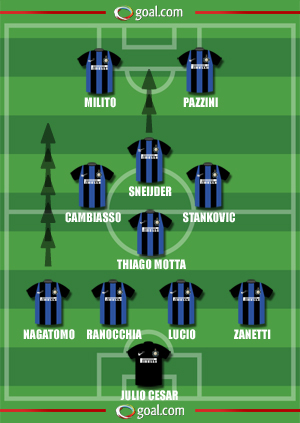 WINGLESS: Lack of quality width impacted on Pazzini

But in 2011-12, it all went wrong for the Pescia-born striker. With Maicon invariably injured or lacking the drive which had made him the world's most dangerous right-back, as well as a greater conservatism shown in midfield under Claudio Ranieri, Pazzini's game was changed immeasurably. Most of all, the extra angle of attack supplied by Eto'o was gone, with the Cameroonian sold to Anzhi Makhachkala the previous summer.
Suddenly, he was getting few of the chances he had been used to receiving, neither from out wide nor from the incision of a Cassano or Eto'o figure. Even Wesley Sneijder was regularly used in a more withdrawn midfield role when fit, or Ranieri would start with Joel Obi or Ricky Alvarez, both of whom struggled to get quality delivery in from the flanks. With opposition defences finding it easier to control an Inter attack lacking both the pace out wide and the ability to thread the ball in between the line, they were able to push up those valuable extra few metres that made all the difference to Pazzini's game. He proved unable to have the same effect with his back to goal outside of the area, and with that, his confidence was shot to pieces.
By the time Andrea Stramaccioni replaced Ranieri, Pazzini was no part of the young coach's grand plan, and a sale was inevitable this summer. But now that he has arrived at Milan, they need to make the best of him. To that end, the angles of attack which have served him well in the past must be replicated, and given that the Rossoneri are not blessed with width in midfield they must look to their full-backs for the kind of service that the No.11 desires.
Either Ignazio Abate or Mattia De Sciglio should be asked to attack at will down the right, while Luca Antonini remains the best of few options in this regard on the left. While Antonini may not have the defensive qualities the side requires, he needs to prove he can be a danger in the attacking half of the pitch thanks to his willingness to get forward.
ROSSONERI RESOLUTION?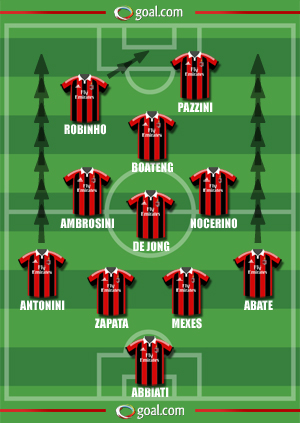 MIDFIELD GRIT: A protective centre will allow full-backs to supply Pazzini

If the Rossoneri are going to be able to stretch the opposing back line, then they need their midfield to be a solid, hard-working unit, and Massimo Ambrosini proved with his reintroduction against Bologna that few supply the grit and poise that he does at the heart of the pitch. A middle three of he, Antonio Nocerino and Nigel De Jong would give the midfield a significant amount of steel, drive and tenacity, meaning that the attacks of the full-backs would be well covered for. Riccardo Montolivo may look elegant on the ball, but his end product doesn't offer enough to cover for his lack of attributes elsewhere in his armoury.

Alongside Pazzini, Robinho must be utilised as the second striker in much the same way Cassano and Eto'o have in the past. The Brazilian is best placed to offer that extra angle of supply, with Kevin-Prince Boateng allowing for an extra threat in the trequartista position. Alexandre Pato is due back from injury soon, but to build a side around him is to put too many eggs in a broken basket. The former Internacional man's propensity to pick up muscle injuries means the Rossoneri need to be wise enough to plan without him. If he comes back fully fit and is a danger, then that is a bonus.
Pazzini must be given the very best chance to succeed, and for that to happen they must ensure that the platform given for the striker during the best run of his career needs to be taken into account when Allegri stands in front of his chalkboard each weekend.