COMMENT
By Jonathan Birchall at Wembley
In the end, as the fans' novelty moustaches were peeling off and the sombreros were waved both on the pitch and in the stands, Mexico's 2-1 win over Brazil to secure their first ever Olympic gold felt like the popular result at Wembley.
For a tournament that began shrouded in cynicism from its own hosts, it was only right for a team which has played without any - this free-flowing, risk-taking, unified group - to emerge as its victors.
That all 14 players who featured in the final for the Mexicans play in their native country was good for the game, and the Games. And it doesn't stop there. Crowned world champions at Under-17 level, Mexico's hitherto unknown Golden Generation has legs.
LONDON CALLING


WEMBLEY ATTENDANCES AT LONDON 2012

BRAZIL 1-2 MEXICO
TEAM GB 3-1 UAE
MEXICO 3-1 JAPAN
MEXICO 4-2 SENEGAL
SOUTH KOREA 0-0 GABON
SENEGAL 2-0 URUGUAY

86,162
85,137
82,372
81,855
76,927
75,093

And although it was a 28-year-old Oribe Peralta who was to secure the win, capitalising on two dire defensive errors from Mano Menezes' disorganised Brazil, Mexico, from youngest to oldest, played with a youthful abandon to get the neutrals at Wembley on their side. It didn't take long.
With the dignitaries having barely taken their seats following the national anthems, Mexico were a goal up within half a minute, as Manchester United's Rafael found himself caught in possession by Javier Aquino, who played in the Santos Laguna striker to give the underdogs a lead that wouldn't be closed.
Yet still the Samba drums continued on the south-west side of football's home, with both sets of supporters taking the spirit of Carnival from Wembley Way to inside the ground. Bringing Brasilia to Brent along with plenty of Mexican waves, this was a final that delivered for one last time, a spirit quite unique to Olympic football.
The average attendance for the men's tournament has pushed 50,000 since it began at the end of last month, with the final itself topping 86,000 - a mix of British, Mexicans, Brazilians and the rest.
The cumulative total number of fans at the 58 matches played by both men and women is the largest ever at an Olympic football tournament, with 2,186,930 visiting each of the six host cities to break Beijing's record in 2008 by over 50,000.
Poet Laureate Carol-Ann Duffy described the mood of Great Britain as being "all in this together" ahead of London 2012's conclusion on Saturday, and after the success of Euro 2012 and now what has been the most popular Olympic football competition in history, the wider, global football community can share a similar sense of unity ahead of the new European season.
The game simply continues to grow at a velocious rate. It's clearly too big a beast to be sidelined from even the Olympics.
MEXICO STUN BRAZIL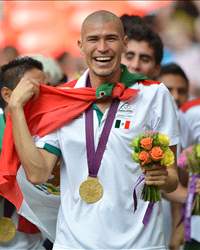 Luis Fernando Tena's men held on to their narrow win despite a late onslaught by the Selecao to claim their first ever gold medal in the men's football tournament
Lessons too have been learned. "After the incredible high performance and sporting spirit we have seen at the Olympic Games, players must recognise that with the privilege of playing comes the responsibility for managing themselves and their behaviours in a similar way," said FA chairman David Bernstein after watching the final at Wembley.
Here's hoping the same can apply to the fans, of whom plenty remained long beyond the final whistle in baking Wembley heat to applaud Mexico, Brazil and South Korea, the tournament's bronze medal winners, with tribalism cast aside.
From Moroccans in Manchester to Swiss at St. James', the support has been in large part superb during the so-called 'People's Games', even if the pantomime villainy remained for the likes of Luis Suarez and Neymar, who lay prostrate on the turf following the final whistle, his dream of breaking Brazil's Olympic hoodoo shattered.
Their chance to shine on the global stage will come again at home in two years' time with the World Cup, before this often derided but always enthralling tournament returns in 2016 to defy its doubters again.
So farewell London and bring on Rio - you have some act to follow.
Follow Jonathan Birchall on