COMMENT

By Tom Webber
At just 20 years of age Neymar has practically scaled every mountain in South American football. He has played a role in three consecutive Paulista state championship triumphs, a feat achieved by no club since the era of Pele, as well as lifting the Copa Libertadores and Copa do Brasil titles and being crowned South American Player of the Year for 2011. However, many of these achievements have gone unrecognised to the European eye and thus this weekend's Olympic final is arguably the biggest match of his career for the worldwide viewing that it will receive.
The 20-year-old has netted 111 goals in 190 appearances for Santos and, over the last year, he has begun to translate such form to the senior international stage with nine strikes in 18 caps for Brazil. However, harsh critics merely suggest that these figures mean little in comparison to those who ply their trade on the European side of the Atlantic Ocean. It is an understandable viewpoint and there is therefore scepticism as to whether Neymar can be considered truly comparable to modern football's elite duo: Lionel Messi and Cristiano Ronaldo.
It was only natural that such displays would draw comparisons with one of the pair, and his ability to glide on the ball whilst flitting between defenders with immensely tight control has encouraged many to liken him to the Barcelona idol. Unlike the Argentine superstar, however, Neymar is yet to successfully showcase his talents to a wider global audience. To rank among the best, he must face the highest tests possible and Wembley will play host to one such opportunity.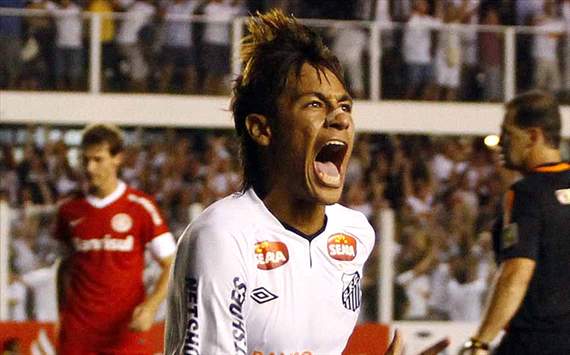 Hat-trick hero | Neymar scored a jaw-dropping treble in the 3-1 win over Internacional


Messi's Barcelona may have bested the
Peixe
4-0 at the Club World Cup back in December, yet Santos icon Pele is already convinced that Neymar has surpassed the Blaugrana wizard. "There's always this [Diego] Maradona comparison, saying that he's better than Pele. Now some are saying that Messi is better than Pele. Well, he has to be better than Neymar first, which he isn't yet," he said in April.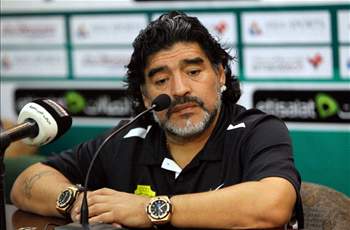 "Maybe Neymar is the best in the world, but only if Messi is from another planet"


- Maradona's response to Pele
Of course, Maradona would not let such a comment slide and criticised Pele for his outlandish statement. He said: "My God, that is just stupid. Maybe Neymar is the best player in the world, but only if you say that Messi is from a different planet."
Unfortunately the opinions of these legendary figures can be given little standing due to the duo's constant one-upsmanship, but now Neymar has the chance to weigh in on these declarations with a worthy performance in front of a global audience when Brazil face Mexico on Saturday.
However, he has only shown his potential in short glimpses throughout the Olympic tournament and while this may have impressed in parts, if he fails to produce a mesmerising display in the showpiece, the likes of which he did against Internacional in this season's Libertadores, his campaign will be rated as somewhat of a disappointment.
Europe's top clubs will no doubt already have seen plenty of the young forward in Brazil, but they will be keen to watch how he deals with the pressure of having the world's eyes trained on him. As if that thought alone was not enough, the weight to bring home the
Selecao
's first ever gold at the Olympics adds to the necessity to perform.
But Neymar is no stranger to such scrutiny. He is the darling of Brazil and he will become an idol should his nation take the top prize, matching a feat achieved by Messi in Beijing in 2008. And as with the Argentine, victory on Saturday could catapult the 20-year-old onto even greater triumphs with the
Selecao
and thus allow him to legitimately encroach on the 'greatest player' debate. With the world watching him, the pressure has never been greater, but it is in such circumstances that the footballing greats are forged.
Follow Tom Webber on