Usain Bolt, the world's fastest man, has done it again at the
Olympic Games
in London.
The unrivalled Jamaican cruised to another gold medal on Sunday night, leaving millions of admirers in awe of his incredible talent.
In the aftermath of the race,
Goal.com
kept an eye on Twitter to see how the world of football reacted to the historic event...
"From another world!"
One of the first on hand to give his verdict on the race was Barcelona maestro
Cesc Fabregas
, who appeared adamant that Bolt was not altogether human.
"As predicted. BOLT is untouchable ...."
Sylvain Distin
, however, appeared to come up trumps in the prediction stakes, leaving bookies worldwide quivering.
"Jheeeeeezzzzzzzz!! :D #TeamBolt"
One of the fastest players in the Premier League,
Alex Oxlade-Chamberlain
, was left to reflect on Bolt's 31mph feat, a speed the young winger could only ever dream of reaching.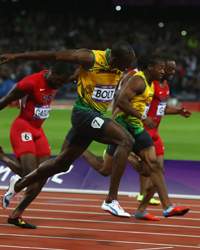 "Wow"
Meanwhile, Aston Villa player
Gary Gardner
offered his view in one of the only tweets that was probably composed in a shorter time than the race itself.
"Bolt = ridiculous"
Next to offer his two cents was QPR midfielder
Joey Barton
- the controversial playmaker demonstrating his mathematic prowess.
"Nothing more needs to be said, time to all accept Bolt's supremacy."
Vincent Kompany
admitted that, with regards to Bolt's performance, nothing more needed to be said... before going on to say something else.
"Wow, Usain Bolt....out of this world type athlete! the 100metres final is the best sport to watch in the Olympics..."
Never far from the 'tweet' button,
Rio Ferdinand
tended to agree with Fabregas' summary of events with outrageous claims concerning Bolt's origins.
"Any chance of producing world record this guys terrible!!!"
West Brom's
Graham Dorrans
was in a playful mood after the race, claiming to be one of the few people in the world apparently unimpressed with Bolt's gold medal achievement.
"BOLTTTTTTTTTTTTTTT"
An excitable
Gael Clichy
offered his insight on the evening's events.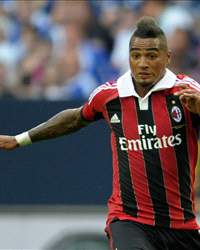 "Usain Bolt the greatest of all time... Respect bro!!!"
AC Milan's
Kevin Prince-Boateng
(pictured right) was next to jump on the bandwagon as he too heaped praise on the Jamaican.
"I had my doubts about Bolt....sorry sorry sorry. What a race and what a legend #TheGreatest"
Stoke City keeper
Thomas Sorensen
was one of the first to come clean about being a doubter, before apologising profusely for letting such thoughts creep into his head.
"Bolt is the man! Never under estimate this dude! Zoop zoop zoop! Buzzing!!!!! #bolt had a bad start an still beat them easy haha! #mindgames"
Justin Hoyte
- the first footballer to suggest that Bolt intentionally made a slow start to the race to get inside his fellow competitor's heads. Interesting...
"Big up @UsainBolt! You deserved that one. Big up Jamaica! Now it is on to the two!"
And finally, it was Bolt's compatriot and fellow 100m medallist
Yohan Blake
who was the one to remind us that Usain hasn't quite finished at London 2012... roll on the 200m final!