COMMENT

By Liam Twomey at the Millennium Stadium
In the midst of one of the greatest nights in British
Olympic
history, it was sadly inevitable that the karma police would turn up somewhere, and at some point, to re-adjust the balance.
Unfortunately for Team GB's male footballers, the Millennium Stadium was the place, and around 22:15 the time, that they chose to intervene.
Stuart Pearce is no stranger to the heartache that penalty shootouts can dole out, having lost two of the four he faced as a player and coach for England. But for some of his team it was a harsh introduction to the brutality of tournament football, while for others it was time to become acquainted with what has become the bitterest part of English football's national heritage.
Unlike in previous shootouts, the side from these shores did not go quietly into the night. Aaron Ramsey, Tom Cleverley, Craig Dawson and Ryan Giggs all netted convincingly and the only thing which stopped the capacity crowd at the Millennium Stadium beginning to believe that tonight might be the night was the fact that South Korea's four kick-takers had done exactly the same.
TEAM GB CRASH OUT TO KOREA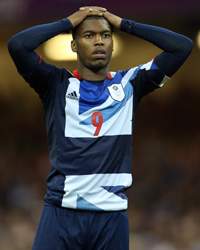 Daniel Sturridge saw his spot-kick saved as GB's fairytale run comes to an end with the heartbreak of a shootout after a grueling 120 minutes

Even Daniel Sturridge, in failure, was no great villain. His ruse – to check his run-up in the hope of encouraging the goalkeeper to commit – was one which is often employed, and successfully so, in the modern game.
This time, however, Lee Bum-Young stood his ground, guessed the right way and made an impressive save which gave Celtic's Ki Sung-Yeung the chance to send his side into the last four. It was a fitting reward for the game's best player, and one that he took emphatically.
But deserved or not, the end of Team GB's journey should be greeted with sadness. First condemned as a political landmine, then dubbed a mere vehicle for 'Brand Beckham' and finally dismissed as a sporting insignificance, this project has come with more than its fair share of baggage.
The home nations, such integral cogs in the wider Team GB machine, wanted no part in a truly representative football team. Scotland and Northern Ireland backed away, and even Wales ultimately tolerated their players taking part rather than encouraging them to do so.
On a sporting level, Pearce has had to fight for the credibility of his cause as much as his integrity as a coach.
The decision to omit David Beckham was greeted with widespread derision. Many felt that the LA Galaxy veteran had earned his right to an international swansong, even if such an inclusion was born out of sentiment. Pearce, a relentless competitor, disagreed.
Time has proven him right. Craig Bellamy, included at Beckham's expense, has played with a desire and intensity which betrays his awareness that London 2012 was his one shot at an international tournament. He has excelled and, though surely disappointed, can have no regrets.
The public at large took their time to warm to Team GB. Olympic football's lack of tradition on these shores, coupled with its status as a predominantly Under-23 tournament, meant that few were convinced of its worth.
GB STARS FACE UNCERTAIN SUMMER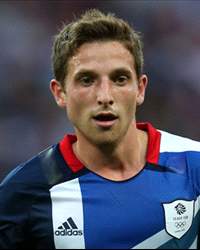 Defeat to South Korea ended dreams of a medal at the Games for the British squad but many of them do not have much time to reflect on their exit


But, over time, these perceived weaknesses have become sources of the greatest appeal. A domestic national side competing under a different title and flag offered a welcome novelty to those disillusioned with the existing home nations and their long histories of disappointments.
For those frustrated with the failure of the 'Golden Generation', Team GB instead offered as its poster boys a fresh-faced group of talented, exciting young pretenders who, if not yet quite as accomplished, nevertheless played with a pace, a verve and an enthusiasm of which their older counterparts seem incapable.
On a footballing level, too, the novelty of the team was a millstone at first. Team GB were a strange bunch and so, unsurprisingly, played like a bunch of strangers. Brazil defeated them comfortably in a friendly which received a lukewarm public reception, while Senegal exposed their frailties in an opening day draw at Old Trafford.
But as time went by, Pearce's men bonded. Their performances improved and their fans grew in number. With Olympic fever beginning to grip the nation, hopes of adding to the medal tally became raised. The public responded to them, and not just in London.
Cardiff, where Team GB played Uruguay and South Korea, has become a home from home. Far from treating the touring hosts as a threat to their footballing sovereignty, the Welsh people have, by and large, regarded them as something to be celebrated.
They have relished the opportunity to cheer on their domestic heroes in a major tournament environment, raising the decibel level in the Millennium Stadium in the process. In the spirit of unity and accord, 'God Save the Queen' has been politely ignored rather than booed.
With all this in mind, the demise of Team GB is a shame, and Pearce's suggestion that it may not have a future is even sadder news for those who feel that the experiment is worth repeating in Rio.
Whatever the ending, it was certainly worth the trouble here.
Follow Liam Twomey on