Arsene Wenger's pursuit of the 31-year-old has provoked nostalgic memories among gamers of the Championship Manager abilities of the fictional version of the Swede
Arsene Wenger's desperate attempts to sign a midfielder took a surprising twist on deadline day when he turned his attention to experienced Sweden midfielder Kim Kallstrom.
Having failed to broker a deal for Schalke sensation Julian Draxler, Wenger caused pandemonium on social media websites by attempting to recruit a player whose reputation is based largely on his attributes on vintage versions of the 'Championship Manager' series, rebranded 'Football Manager' in 2005.
Much of Kallstrom's fame among would-be managers springs from the 04/05 edition of the game, when he was a world-class prospect available at a reasonable price from middling Ligue 1 club Rennes.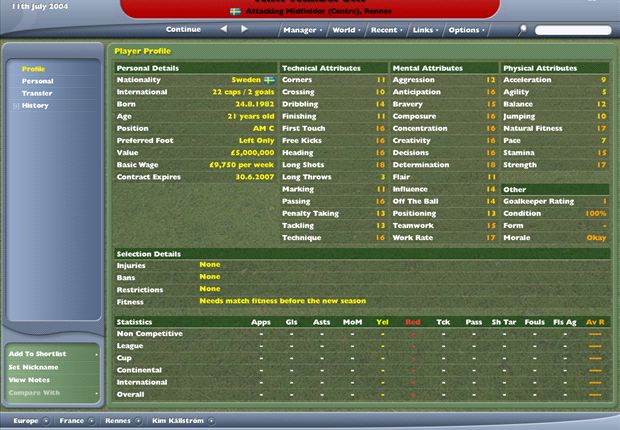 Wonderkid | The 21-year-old Kallstrom was a must-buy for many would-be managers
The fictional Kallstrom went on to become the creative hub of thousands of successful virtual teams, but the real midfielder has since struggled to live up to the hype.
He left Rennes for Lyon in January 2006 and made over 200 appearances for the French giants, winning two Ligue 1 titles and the Coupe de France on two occasions.
But global superstardum eluded Kallstrom, who moved from Lyon to Spartak Moscow in July 2012 and, at 31, is now approaching the twilight of his career.
But with Arsenal plagued by injuries heading into a crucial period of the season, Wenger is clearly hoping the Swede can inject some fantasy into his depleted midfield.
Football Manager 2014 is available for Windows PC, Mac and Linux now – and on the go with Football Manager Handheld on Android and iOS