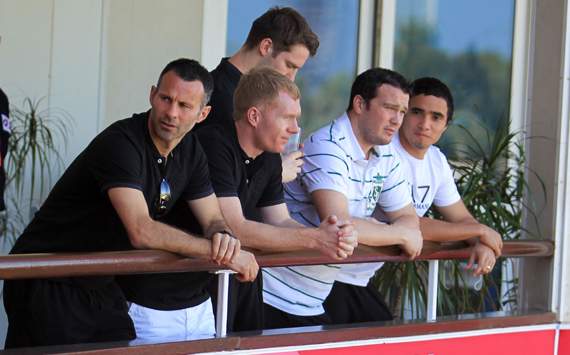 Manchester United
have jetted out to the Middle East for some warm-weather training this week, but several of their stars looked fairly relaxed as they took in some golf at the Qatar Masters.
It's par for the course that they would be afforded some time to relax and they probably deserve it after opening up a four-point gap at the top of the Premier League.
The Red Devils face Fulham in the FA Cup at the weekend and will be hoping that the Cottagers do not become a bogey team for them and they can progress to the next round.
Ryder Cup winner Justin Rose, who was competing in the tournament, was surprised when he saw exactly who was in attendance.
He said: "I saw the Man United guys were close to us on the par-three at hole 12, so I went up to them and I shook Rooney's hand and Giggsy and the boys. Obviously they're such legends. It's hard not to be impressed by them.
"I've met a bunch of football star over the years like Alan Shearer, Michael Owen, all those sorts of guys. Jamie Redknapp's become a friend of mine. They're all mad-keen golfers, which is cool.
"I had hold of my three-wood into 18 and I sort of looked up to the balcony and I saw all these guys, many wearing black, so I knew it was them, although Wayne was in a red shirt. That definitely added a bit of focus going into my last shot into 18 as I tried to impress the lads. It was a nice way to finish."