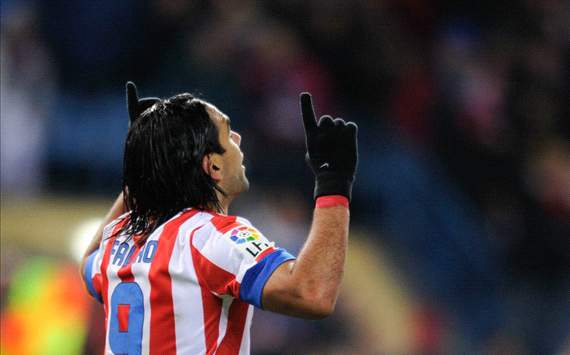 They say that harmony in the dressing room is the key to the makings of a successful side, and in Atletico Madrid's case, it appears to have been the driving force behind their charge towards second spot in La Liga and a place in the knockout stages of the Europa League.
In a Q&A with Spanish television channel
Cuatro
, Radamel Falcao revealed all about his
team-mates, and while it's fair to say that they may beg to differ, their jovial relationship can only be a good thing - in stark contrast to the reported unrest seen at arch-rivals Real.
However, spare a thought for goalkeeper Thibaut Courtois, who was labelled by the Colombian striker as both the side's biggest flirt, for being single, and a turtle due to his long neck!
Other animals other than El Tigre: "Thibaut 'the turtle' Courtois. His neck is just so long."
The joker: "Cata [Diaz], Juanfran or Diego Costa. I'll go for Juanfran. Or Adrian... Adrian."
The most vain: "Mario Suarez."
The most serious: "Tiago."
The most superstitious: "[Diego] Godin. Before matches he always sits in the same place and refuses to swap."
The biggest flirt: "Courtois is single, so let's give that one to him."
The biggest daydreamer: "That's between Adrian and me."
The dressing-room DJ: "Juanfran."