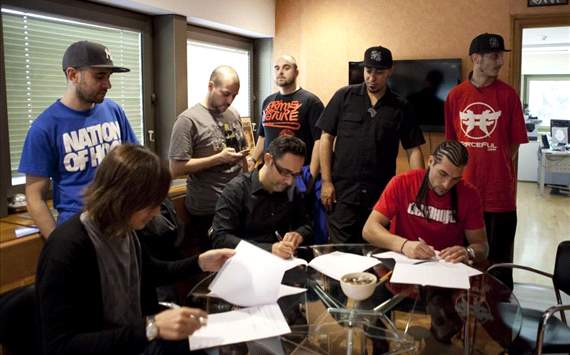 Barcelona
goalkeeper
Jose Pinto
revealed on Twitter that he has signed a contract to produce rap band Delahoja.
The former Celta player has put pen to paper on a deal with Sony Music Spain to help promote the group he has been working with for nearly two decades.
"Contract signing (after 22 years in the shadows as a producer) with Sony Music Spain," he wrote to his 168,000 followers.
Whether his 'in the shadows' comment was a sly dig at being Camp Nou's perennial second-choice goalkeeper, Extra Time cannot be certain.
Pinto added, presumably in his cheesiest voice, that: "Just one example that work, humility, perseverance, enthusiasm...your dreams, whatever [they are], can be met.
"No matter what, no matter how small or large it may be, no matter what they say, what matters is that you enjoy it and be happy."
Next time you catch a glimpse of Pinto watching from the stands as Victor Valdes soaks up all the Blaugrana glory, chances are his mind is more focused on music than on Lionel Messi!