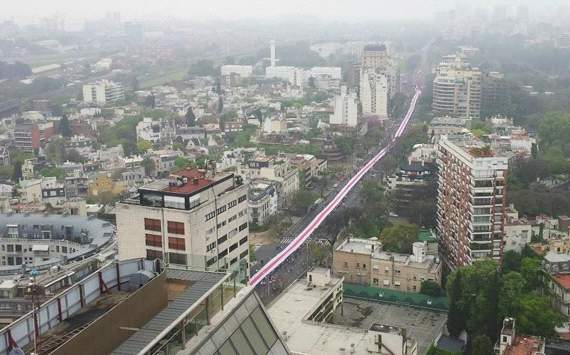 River Plate
supporters have unveiled the world's longest fan-made flag, measuring a staggering 7,829.74 metres, with the hope of entering the Guinness Book of World Record for their lengthy endeavour.
The Primera Division club are looking to surpass their counterparts from fellow Argentine club, Rosario Central, who hold the current record with their own 4,350 metre-long creation.

More than 15,000 fans turned out to unfurl the flag from the site of their old ground at Figueroa Alcorta Avenue to their current home, the Monumental Stadium in the city of Buenos Aires.

After the demonstration, the flag, which measures to just under five miles long - the equivalent of 316 double-decker London buses lined up side by side - will be cut up and exhibited in various places; including a museum, government buildings and different sporting locations associated with the River brand.

Initial fears of the River players that the flag was being created in an attempt to hide the fans from the disappointments of recent below-par performances are unfounded, but the Buenos Aires club have hit form just in time - scoring nine goals and conceding none in their last two games, including Sunday's 5-0 rout of Godoy Cruz.