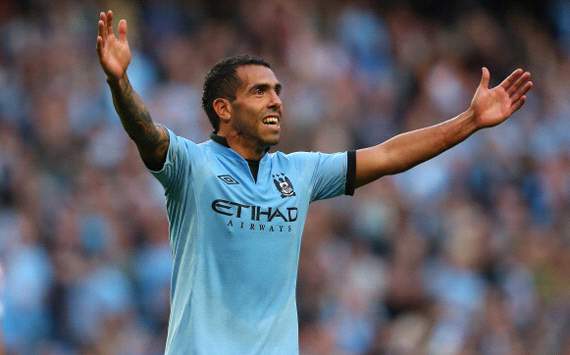 The secrets of
Carlos Tevez
's new-look slim physique have finally be revealed, but if you were hoping for something revolutionary, best look away now.
The Manchester City striker shed seven kilograms before the start of the Premier League season after piling on the pounds during an unsettled time at the Etihad Stadium.
But the lean, mean, scoring machine is back to his best and already has four goals to his name this season. And the secret to his success? Well, by eating less, of course.
Barry Sears, creator of the "revolutionary" Zone Diet, referred one of his Italian coaches to Mancini to help Tevez shift the bulge, and the rest is history.
"The results were immediate," said the American nutritionist.
"Carlos changed his diet, lost seven kilos, recovers faster after making effort and improved his performances."
So, you ask, just what does the Zone Diet entail?
"You cannot eat only pizza, pasta, rice or bread," Sears added.
"Carbohydrates do not generate as much power as people think. We must have a balanced diet. Firstly, lean protein like chicken or fish, and other vegetables or fruits.
"Whenever the portion is bigger than your hand can hold, the body has a harder time processing and complicates the recovery."
Hardly revolutionary, Bazza, but there's no arguing with the results. Carlos is back with a bang. But no bangers and mash.