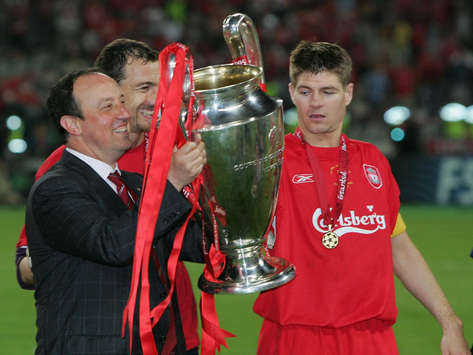 Former
Liverpool
manager
Rafael Benitez
has revealed that he wore "lucky" red underpants during the club's run to a memorable
Champions League
triumph in the 2005 final.
The Reds were 3-0 down to a rampant AC Milan side at half-time in Istanbul but staged an astonishing second-half fightback to secure the trophy in the most dramatic of circumstances.
Seven years on, Benitez claims in his new book, 'Champions League Dreams', that it was a pair of underwear selected by his daughter that helped the Reds create history that season.
The Spaniard said: "I wore the same pair of underpants for every European game in my first year at Liverpool.
"They had been selected for me by my daughter, Claudia. She would plead with me to wear them every time we had a Champions League game. There are times when you simply cannot argue with a six-year-old girl."
The pants may have been lucky for Benitez, but he could not mask his embarrassment at their design.
He added: "Unfortunately, the item in question was bright red and bore the face of the Tasmanian Devil, the cartoon character.
"She had chosen them while I was still working for Valencia and I had worn them while winning La Liga and the Uefa Cup.
"She insisted I wore them for every European game. Resistance was futile."