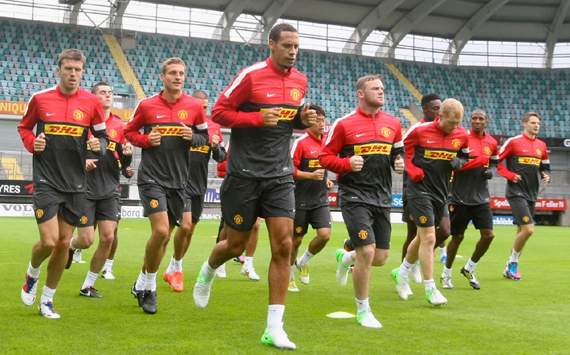 Manchester United
have landed in Sweden ahead of their pre-season clash with
Barcelona
on Thursday evening.
While the game is not expected to be a Waterloo moment for either side due to the friendly nature of the fixture, neither side will want the game to be a 'Gimme, Gimme, Gimme' for the opposition.
Sturdy Serb Nemanja Vidic will be looking to continue his comeback from injury while Japanese 'Dancing Queen' Shinji Kagawa will hope to continue his fine summer form.
Does your mother know that you're out? | United players pose for a picture
The Red Devils round off their pre-season against Hannover on Saturday and have done well to get through their schedule without any SOS moments leaving them shouting 'Mamma Mia!'
Fringe players such as Bebe and Federico Macheda are likely to have demanded Sir Alex Ferguson to 'Take a Chance on Me' and with the game lacking 'The Winner Takes it All' feel, it is likely they could be given an opportunity.
The fixture may have been set-up with 'Money, Money, Money' in mind but it will also give players on both side's a vital warm-up against top opposition as both clubs look to regain their domestic title this season.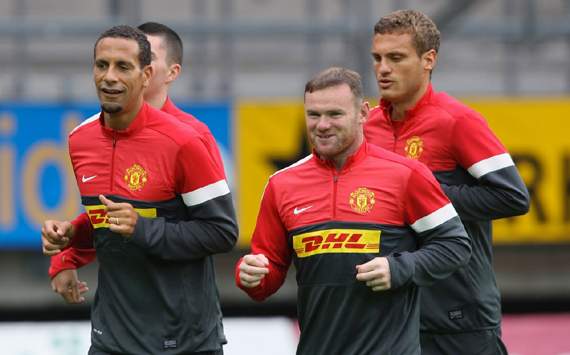 The name of the game | Rio Ferdinand and Wayne Rooney enjoy a joke
United will be hoping 'Super Trouper' forward Wayne Rooney can find form ahead of the new campaign against the side he scored against in the 2011 Champions league final.
However, 'Knowing Me, Knowing You' a slow tempo and a large number of substitutions may hinder the game's competitive edge but 'I Do, I Do, I Do, I Do, I Do' hope that does not become the case.