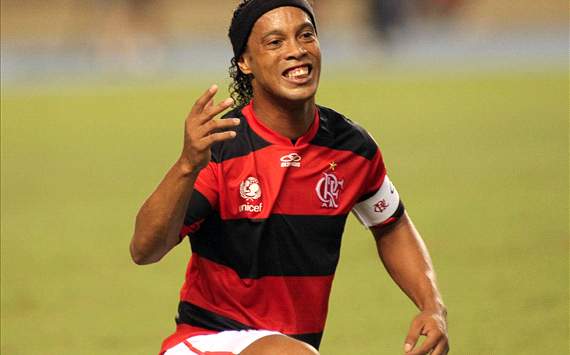 The brother of Ronaldinho has reportedly protested against his sibling's salary troubles at current club Flamengo in a rather peculiar fashion.

The former Barcelona superstar has endured a troubled time at the Rio de Janiero outfit, with fans and local media criticising the 32-year-old for poor performances while the club have struggled to pay his wages.

Flamengo's difficulty in meeting Ronaldinho's financial demands prompted his brother Assis - who is also the player's agent - to take an unusual course of action as he was seen removing items from the club's official store without paying for them.

One of the workers at the 'Fla Concept' store told Brazilian sports network Globoesporte that Assis took over 40 items from the shop including official shirts; hats and baby clothes.

Staff at the store were initially said to be delighted with the increased commission they would receive from such a large sale, but they were confused when Assis promptly informed them: "Flamengo aren't paying my brother, so I'm not paying either."

The store worker said: "We explained to Assis that we could not authorise that kind of favour. That was when he called for [Flamengo's financial vice president] Michel Levy"

This bizarre story is just another twist in the career of the former Ballon D'Or winner, whose fortunes have taken somewhat of a downturn since leaving Barcelona. The Brazilian left the Catalan club for AC Milan in 2008 but his spell in Italy was largely blighted by injury.

However, in spite of poor form Ronaldinho made a return to the Brazilian national setup last year after being left out for the 2010 World Cup, and the midfielder could yet secure a place in the squad for this summer's Olympics as one of the three permitted over-age players.