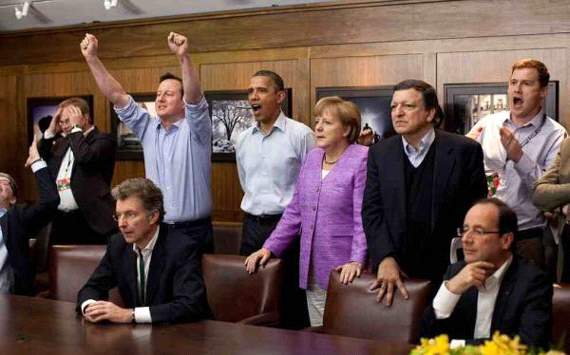 British Prime Minister David Cameron has been explaining the scenes inside the meeting chamber of the G8 meeting on Saturday where he was seen celebrating
Chelsea
's
Champions League
penalty shoot-out win over German side
Bayern Munich
.
The former Eton schoolboy was in jubilant spirits as Didier Drogba stroked home the winning penalty to leave German chancellor Angela Merkel looking distinctly unimpressed.
And Cameron admitted to reporters: "It's not often you get the opportunity to watch a penalty shoot-out between an English team and a German team and watch the English team win."
Sporting a grin as wide as Jose Bosingwa's monobrow he continued: "There are many great privileges in this job, but to be able to do that with the German Chancellor was a great moment," before (seemingly ruefully) admitting that the pair did "hug and make up afterwards."
The PM also revealed that he had been giving American president Barack Obama a run-through of the rules of the game including how the penalty shoot-out worked.
It is not yet known if he explained the offside rule with salt and pepper shakers.
However, Mr. Cameron did proudly state: "He was beginning to catch up with the rules by the time it was over."
Whether Obama - a keen basketball player - will give Cameron a run-down on the finer points of the NBA remains to be seen.
It seems the evening wasn't all about the football, however, and that the impending financial doom did come onto the agenda at various points during the match.
The PM revealed: "I insisted that we watched a little bit of the game and then I insisted; 'look we've got a lot of important conversations and got everyone back in the room' but when the penalty shoot-out started Angela Merkel drifted away and after trying to focus minds on what we were talking about, I drifted away too."
Clearly the drama was to much, but Cameron perhaps reflected the nation's collective self-doubt in the penalty shoot-out, particularly against the Germans, who NEVER lose on penalties.
"Obviously suspecting that an England v Germany penalty shoot out was going to be a difficult night for me, and thats why you see me quite so elated when Drogba put that great penalty in," Cameron said.
Quizzed on whether he - apparently an Aston Villa fan - found it strange to be celebrating a goal by a different team, Cameron decided not to answer the question at all, instead describing the strange atmosphere amongst his 'team-mates'.
He explained: "It was a very strange moment because you've got the American President not fully understanding the rules of football or soccer as he would call it, a very despondent German chancellor and of course another happy man in the room which was the Russian prime minister who perhaps thought there was a little bit of Russia engaged in the game and he was pretty happy with the result too."