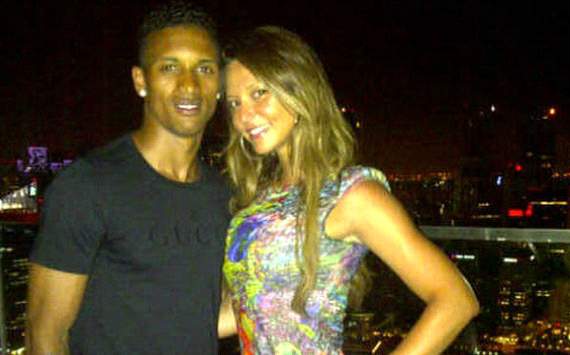 Manchester United
forward
Nani
has taken a break from the hustle and bustle of this season's title race to ask his girlfriend, Daniela Martins, to marry him.
And guess what? After four years of courting she couldn't say yes quick enough, with the Portuguese stunner now set to wed the former Sporting Lisbon man.
"I'm happy to announce that we're engaged :-)", Nani tweeted, posting a delightful photo of the couple to accompany the message as he let his loyal followers know of his success in the love department.
One has to wonder how happy Sir Alex Ferguson will be about this, particularly coming off the back of Sunday's 4-4 draw with Everton.
Not that the Scotsman is some sort of anti-cupid - he'd surely be well up for a knees-up to celebrate his player's holy matrimony - but just six days before the Manchester derby?
Daniela may be beautiful, and a popular addition to the Red Devils' WAG brigade, but Sir Alex will have his fingers crossed that she doesn't distract her man too much over the coming weeks.