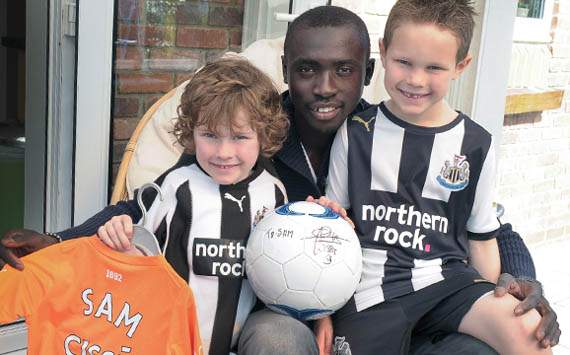 Who fancies a heartwarming story?
Newcastle
's No.9
Papiss Cisse
paid two young fans a surprise visit at their home on Saturday afternoon to say thanks for sending him a "Welcome to Newcastle" card.
The Senegalese striker has been in red hot form since joining from Freiburg in January for £10 million, scoring 10 goals in his first nine games and helping the Magpies make a late push for Champions League football.
The young supporters were four-year-old Sam Livingstone and his seven-year-old brother Jack who celebrated his birthday on Saturday too.
Sam said: "I couldn't believe my eyes when Dad told me and my brother Jack to go and see who was at the door.
"To then see Papiss Cisse standing there, well that was amazing, that just doesn't happen!
"He came inside, brought us some really great gifts and then showed us his car which was amazing. It was brilliant!"
We know what you're thinking: that's an awfully eloquent quote from a four-year-old! Indeed, but don't let that put you off what is one of our favourite stories of the season.
Brother Jack added: "We didn't know anything about the visit and it was just a great day for us."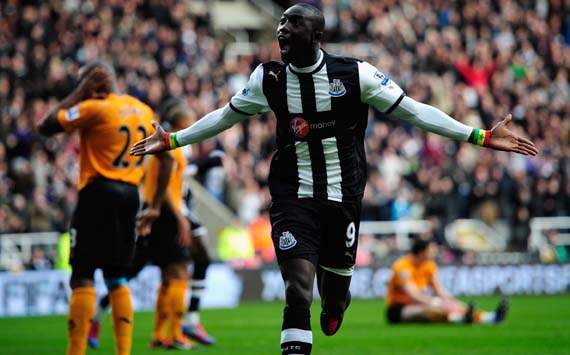 The hitman | Papiss is living up to the expectation at Newcastle
Cisse also took the moment to show his appreciation to the Newcastle fans.
He said: "The welcome I have received in Newcastle has been incredible and I thank everyone who has helped me settle in.
"From those at the club to the thousands of supporters who I think are simply fantastic, I am deeply touched.
"Going to see Sam and his family was just my way of saying a special thank you to a young fan who showed genuine kindness in welcoming me to a new country and new club.
"I must thank them also for the Easter bunny they gave me, it was very nice."
The boys father John added: "This has really made Sam's year and I cannot put into words how grateful I am that Papiss gave up his time to come and see Sam, we are all ever so grateful.
"Footballers don't always get the credit they deserve for things away from the football field, this gesture from Papiss just shows what a genuine, down to earth and tremendous person he is."
Absolutely - to Papiss, what a man!