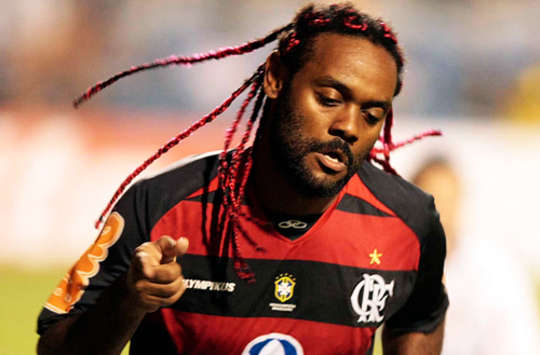 Flamengo
star
Vagner Love
held nothing back in a frank talk about his sex life in Brazil and Russia, affirming that orgies involving up to 14 people were common in his days as a single man.
Love, living up to his surname, has now given us another reason to envy him. Not only is he paid millions to play football on a day-by-day basis, he's also been enjoying the finer things in life off the pitch as well. Not that we'd condone this kind of behaviour. No, no.
Anyway, Love spoke openly of his womanising past in an interview given to the April edition of
Playboy Brasil
, to whom he revealed that he lost his virginity at the age of 14 to a 25-year-old girlfriend.
When asked if group sex occurred between players and their female admirers, Love replied with an emphatic 'yes'.
"Does it happen? Now I am married, but [orgies] do happen. If there were six men, we would say that we were going to have eight women, more or less," the star explained.
"The [groupies] want to take advantage. They want to get a footballer and then talk about it to their friends: 'Hey, I was with this guy, I was with that guy'. There is a lot of competition between them. They all want status and a little bit of fame."
Love featured in a 2008 video with Brazilian adult star Pamela Butt (no that's not her real name...) which probably gave an insight into his private life - we don't know, as we haven't seen it. Honest. Although it is out there (apparently...).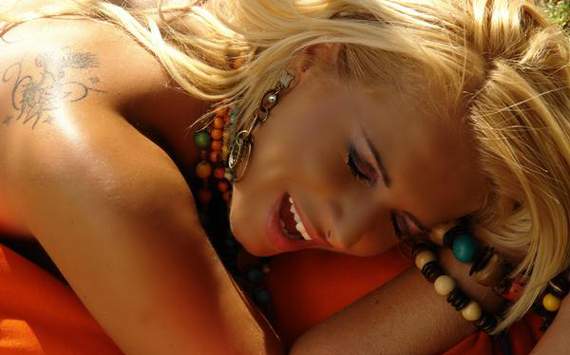 Nothing to see here | It's just an actress called Pamela Butt, lying on a bed...
The former CSKA Moscow player also revealed where his nickname came from after an ill-advised tryst in the days prior to a match.
"I have only done that once in my life. I would not recommend it to any player who is starting his career. My name [Love] came from that, it was a mistake that ended up sticking with me."
The player concluded the interview by talking about the difficulties of sex in Russia and in Siberian temperatures.
"You can still do it. At home, in restaurants or in shopping malls there is always heating, so no problem. The issue is out in the street. I did not mess around doing that in the street because I'm not tough enough to do it when it is -27, -30°C."
That could be one of the best lines of the year. Exclusive: Vagner Love not man enough to bed multiple women in Arctic conditions. Pah, and they say these Brazilians can't adapt to the climate of Eastern Europe!
So, at 27 years of age, Love is all prepped for a new season at Flamengo, having left Russia for his homeland. Who is he teaming up with? Oh just those reputable, sensible chaps, Ronaldinho and Adriano. Now this could get interesting...!