Brazil
's prodigal son may be making waves at the
Confederations Cup
but it is not enough to convince the discerning
Joey Barton
.
Elsewhere, Gary Lineker attempts in vain to create a storm in a teacup, Jay Bothroyd says goodbye to Loftus Road and Billy Sharp bamboozles his followers with double negatives.
Read all about it, as well as Matt Le Tissier's favourite guilty pleasure, in today's edition of
Word on the Tweet
...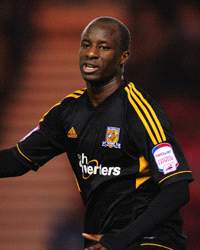 "Magic from Neymar. Did unbelievably well. #stillnothavinghimmind"
Will Brazil superstar
Neymar
be distraught that, despite his second wondergoal in two Confederation Cup games,
Joey Barton
still "isn't having him"?
"Italy v Japan! Absolute world class decision staying up for that. Had everything. 2 good sides. Confederations cup warming up very nicely!!"
Hull City
winger
Sone Aluko
(pictured right) gives himself a pat on the back for delaying his bed time to watch the cracker in Recife.
"Would love an English cup of tea and some digestive biscuits now."
Currently plying his trade for
Quevedo
in Ecuador
, Rohan Ricketts
reveals the drawbacks of a globe-trotting existence.
"PL fixtures are said to have justifiably upset Roy Hodgson. AFC v THFC & LFC v MUFC just days before vital qualifiers. Never help ourselves!"
Gary Lineker
is worried that the Premier League fixture list will hamper England's chances of World Cup glory. He probably needn't be too concerned...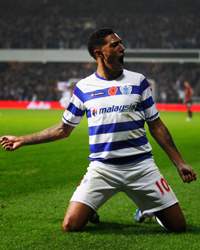 "Just for the record I haven't had no medical at reading."
Does this mean that
Southampton
striker
Billy Sharp
has
had a medical at Reading?
"Thank you to all the Qpr fans you have been amazing I don't want to say to much but I have enjoyed playing for my schoolboy team...
1st year was great staying up and when I played last year I enjoyed it scored a few goals in a few games .. Good luck Qpr promotion I hope"
Jay Bothroyd
(pictured left) reacts magnanimously to his release by QPR. If only he had scored a few more goals in a few more games...
"One of lifes simple pleasures this morning, watching the adventures of winnie the pooh on video with my 4 yr old daughter!"
It's alright,
Matt Le Tissier.
You don't have to pretend you're watching it with your daughter. The fact you own it on video suggests you have enjoyed watching it for quite a long time.
"Finally got sucked in! Let the abuse commence!!"
West Brom
striker
Shane Long
introduces himself to the world of Twitter. He seems to have a pretty good grasp of how it works already.