With World Cup qualifying heating up faster than the surprising weather in England, and the Confederations Cup on its way, it was smiles and happy vibes everywhere on Tuesday
Japan are the first team to qualify for the World Cup in Brazil next year after a 1-1 draw with Australia and the Socceroos' Tim Cahill has tipped his side to be right behind them.
Cahill is one of several players jetting across the world on international duty as the race for Brazil hots up and the Confederations Cup draws closer, and some have taken to Twitter to express their excitement.
Elsewhere, a former England international has some words of warning for a lower-league outfit and a Spanish midfielder comes over all romantic. All of this and more in Tuesday's edition of
Word on the Tweet
...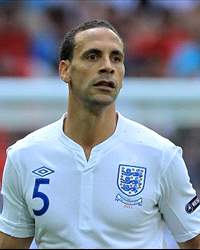 "Good luck to Paulton Rovers next season! Just met ya manager + by the sounds of it pre season is gonna be a mad 1!"
Manchester United
defender
Rio Ferdinand
(pictured right) foresees a tough pre-season for a team from the 8th tier of English football.
"Amazing Night in Japan.Proud of my team and thanks 4 all the support.We stick 2gether and we give everything 4 the final 2 games #Socceroos"
Former
Everton
midfielder
Tim Cahill
expects the
Australian
national team to do their best to secure World Cup qualification after a 1-1 draw with Japan.
"Already in Madrid with the Spanish National Team. Training session and trip to Miami, looking forward to the start of #ConfederationsCup"
Juan Mata
is ready for the
Confederations Cup
but is excited about a jaunt to Florida beforehand. We all would be Juan.
"Jamaican me crazy ! Lift off time, see u on the other side ✈✌#usmnt"
Bolton's
USA midfielder Stuart Holden is on his way to the Caribbean. What a great pun, Stuart.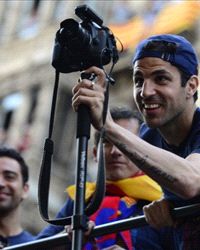 "What a wicked time in Vages Now time to get back up to brum. Looking like decent weather too #golf"
And from a smashing pun to awful spelling,
Liam Ridgewell
is going back to Birmingham after a break in Vegas
.
"Happiest birthday to the best mom my daughter could ever have @firstLadyD4 ❤"

Cesc Fabregas
(pictured right) gets all gooey and romantic on his wife's birthday. That's lovely, Cesc.
"Buzzing with that 1 cloud, needed a wee few minutes break!!!
"
True to his Scottish roots,
Ross McCormack
needs a break from the brutal sunshine.