With
Champions League
final just 24 hours away, everybody is having their say on how the game will go and footballers are no different, indulging their third eye ahead of Borussia Dortmund v Bayern Munich.
Meanwhile, Jay Bothroyd is left confused by a philosophical question of tanning while Michael Owen takes a not-so-fictional fairy to task and Jozy Altidore strikes gold with a new idea for a reality television show.
Read all about it and more in
Goal
's latest instalment of
Word on the Tweet
…
"Just counted 12-11 for #Bayern v #Dortmund from the quickest followers! I say #Bayern win but could B close: #Dortmund are great 2!"
Wolfsburg's
Danish centre-back,
Simon Kjaer
, kicks off the predictions for the Champions League final between by asking his followers for their thoughts. Can we hope for a 12-11 scoreline on the night?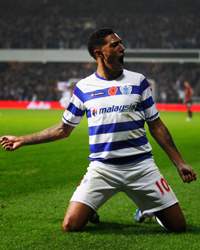 "Rarely can you safely predict something historic in the future. Soon though a German side will lose at Wembley for the 1st time in 38 years."
Gary Lineker
is pulling out all the stats ahead of tomorrow night's Champions League final, although he appears to be onto a winner here with this line of thinking.
"
What will the score be tonight I think Dortmund will win !!"
Jay Borthroyd
(pictured right) seems to have got his dates mixed up but nonetheless fancies Dortmund to take the glory.
"Is it possible to get a tan while wearing fake tan ??seriously"
The QPR striker is also confused on the tanning process as he sunbathes by a swimming pool. Truly a question for the ages.
"This time it's 18 years ago that @AFCAjax won CL trophy on a magical night in Vienna 1995! #greatmemories "
Former Ajax star
Edwin van der Sar
reminisces about the Champions League medal that he won with the club against AC Milan.
"At last, the tooth fairy remembered to pop round with a coin for my son. Either that or she must have been busy these last 3 days #oops"
Michael Owen
has been kept so busy over the past few days that he forgot to place a coin under his son's pillow. Oh wait, the tooth fairy forgot to do it - of course.
"My family needs a reality show they are hilarious! Miss being home so much! #Familytime"
AZ Alkmaar striker
Jozy Altidore
(pictured left) makes a case for his family to become the latest to get their own reality show, having returned to USA.
"Done my workout for the day, now is time to seat back n relax #TomorrowIsAnotherDay"
Wolves defender
George Elokobi
reflects on another day of workout sessions. The season is over, George! Put the weights down!
"Would like to wish everyone involved in the club every success in the future I'm sure it will be a very positive one!!!"
Simon Church
thanks the fans and the club for his time at Reading after it was announced that he would depart the club at the end of the season.
"Lukaku & Benteke NEED to play next season and play often. Both will be paranoid about other gaming better season and get jump on them at WC."
Former Aston Villa striker
Stan Collymore
responds to speculation regarding Christian Benteke's future at the club. Nothing like a bit of rivalry to keep things competitive internationally.
"Buzzin' to have been called up to the 21's this afternoon! Thanks for all the messages & love from you all! Appreciate it all #OneLove"
Young Birmingham City winger
Nathan Redmond
is revelling in the congratulations after it was announced that he would replace
Andros Townsend
in the England Under-21s squad.