So, after winning yet another
Premier League
title with
Manchester United
, centre-back
Rio Ferdinand
has decided to call time on his international career.
Unsurprisingly, the world of Twitter reacted, proclaiming him as a "world-class" defender in some areas. Elsewhere, a certain Mr Barton went fishing for a reaction with his own national-team news.
Meanwhile, Kei Kamara, recently of Norwich City, leads us into the scary world of his dreams. All that and more in today's
Word on the Tweet
...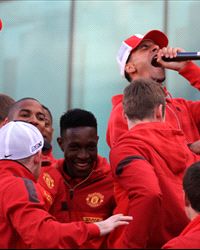 "@rioferdy5 has retired from international football. A world class defender for more than a decade. Wish him well."
Former England man
Gary Linkeker
leads the list of well-wishers as news of Rio's (pictured [not announcing his decision] right) announcement breaks.
"Great international career @rioferdy5. You should be very proud of yourself. It was a pleasure to share most of it with you!"
Another, more recent, ex-international striker,
Michael Owen
can't help but get himself involved in the news.
"Decided to announce my international retirement as well. I was honoured to represent my country for such a long, illustrious time. #sadtimes"
Sometime QPR player
Joey Barton
announces his own decision, after a remarkable 18 minutes of action for the Three Lions.
"In my defence, those 18 mins against Spain, I was brilliant. Even if I do say so myself. Got 1 cap. 1 more than most. 1 better than none!"
Barton
defends his meagre haul for the national team in typically humble fashion.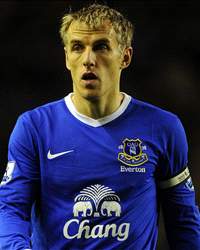 ""@phillycrowley: @fizzer18 any chance you'd come play for Chelsea?? #legend" u drunk??"
Phil Neville
(pictured left) gives short shrift to any idea of him heading towards west London (Chelsea fans, rejoice!).
"Congratulations @asmir1 who basically scooped the lot at last nights Player of The Season Awards night. #fullydeserved #topcat"
Michael Owen
sends out some more praise after
Asmir Begovic
picked up Stoke's Player of the Year award.
"Ok, had a dream we went to see sharks in a cage tank and they broke out. Man it was an exciting dream running away from sharks on land."
Last, but definitely not least,
Kei Kamara
, recently of Norwich, gives us a terrifying view into his mind, as he confronts something truly horrific. Running sharks.