Unsurprisingly, Barcelona's 7-0 aggregate thrashing at the hands of Bayern Munich was the talk of Twitter, with various theories being thrown about.
Emmanuel Frimpong thinks he has identified the missing piece in the
Blaugrana
puzzle, Ross McCormack compares them unfavourably to a prime time soap, Shane Duffy is thoroughly amused, while Michael Owen is laughing all the way to the bank.
Meanwhile, Robert Huth does his best for Anglo-German cultural relations and Andros Townsend thinks it's time to emigrate. Read all about it in Thursday's edition of
Word on the Tweet
...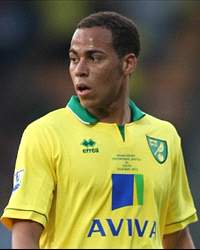 "Pains me to say this but sense another Bayern victory tonight."

Gary Lineker's
spidey sense was spot on.
"Messi on the bench?? Ah well coronation street it is..."
The World Player of the Year is the only thing that separates Barcelona from the Manchester-based soap in the eyes of Leeds United winger
Ross McCormack
.
"Is it just me or does anyone else think Barcelona's pitch is MASSIVE! Only other ground I can think pitch is that big is Port Vale! #HUGE"
Norwich's
Elliott Bennett
(right) is quite probably the first person ever to draw a comparison between Port Vale and Barcelona.
"Imagine beating barca 5-0 hahaha"

Everton
youngster Shane Duffy is tickled pink by events at the Nou Camp. He must have laughed his socks off when the other two goals went in...
"The way Barca are playing I'm telling my agent to sort me out with a trial"

Emmanuel Frimpong
thinks that he might have figured out what Tito Vilanova's men are missing: Him.
"Wow. A power shift in the footballing world and my pre tournament bet on Bayern at 12-1 is looking good!"

Michael Owen
is feeling rather pleased with himself. Where does he get this time to study the form guide?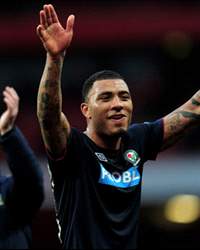 "Barca disciples, don't forget all good sports shops stock Bayern shirts. Change that avi pic too, it's so 2012.
"

Stan Collymore
thinks that the Barca fad is well and truly over.
"People asking how can guardiola make them better!! Simple he will make them consistent!! They will be a force for a long time under him!!"
Blackburn loanee
Colin Kazim-Richards
(left) thinks that a team who have won 43 of their 50 games this season lack consistency. He's a harsh taskmaster.
"Get in! 90000 towels will be on the seats of wembley!!!"
Stoke defender
Robert Huth
does his best to undermine German stereotypes.
"How is helen flannagan getting voted ahead of michelle keegan in the #FHM 100 sexiest women poll? I give up with this country!"

The former Coronation Street actress' nomination is the final straw for on-loan QPR winger Andros Townsend. Hell in a handbasket.