WOTT
knows what you're thinking.
Luis Suarez
has apologised, he's issued a statement rejecting the chance to appeal, now all we need is a cute round-up of the football community's reaction to the news.
Well here's news for you; tumbleweeds. Lots and lots of tumbleweeds as Suarez finally gets the peace that he must so desire after a turbulent week.
So what can we treat you to instead? Well, Colin Kazim-Richards is baiting Arsenal fans and Joe Ledley tries his hardest to disguise Celtic's enormous Middle Eastern drinking session in Friday's edition of
Word on the Tweet
...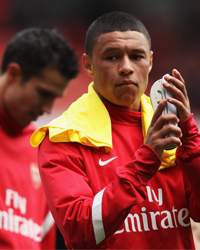 "Very much the right thing to do @luis16suarez"
Gary Lineker
is suprisingly the only member of the hallowed football family to give his opinion on Suarez's decision not to appeal his 10-game ban.
"RT @Arsenal: #FF our players @Podolski10 @_OlivierGiroud_ @19SCazorla @Sagnaofficial @m8arteta @T_Vermaelen05 @JackWilshere<Any chance?! LOL"
Poor
Alex Oxlade-Chamberlain
(pictured right) was left out of Arsenal's Friday morning tweet detailing the official account of their players. Poor lad.
"

Good morning!! I have to say,the film Evil Dead is very bad it isn't scare..horrible film

"
Film critic and part-time beard cultivator
Carlos Cuellar
does not like 'Evil Dead'. The question, though, is whether it is as horrible as his defending. BAM! 1-0 to
WOTT
.
"Can't believe how cloudy it is in Dubai drinking session I think."
Celtic's
Joe Ledley
delivers the least convincing cover-up that
WOTT
can remember. "Drinking session"? You're champions; seems a bit quiet, eh?
"Does anyone watch Murdoch Mysteries"
Just you,
Neil Lennon
.
"

Well am addicted to it and i bumped into Thomas Craig(inspector crabtree)at Perth races yesterday..made my day..known him for years

"
You're in Perth? Just what are Celtic getting up to?!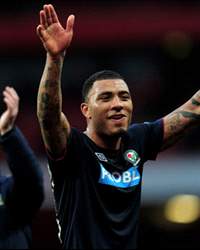 "Too many bitter arsenal fans as a boyhood arsenal fan myself just respect RVP he did everything he said he wanted to do!! #guardofhonur!!"
"

You might not have to like it but just respect it RVP and MAN U were #CLASS!! And the way he did it as a FOOTBALL fan was crazy quality!!

"
"Anyway I'm an Arsenal fan and proud.. For me I just think his decision has value and it has defiantly been justified.."
Colin Kazim-Richards
(pictured left) gives his view on Robin van Persie's return to the Emirates Stadium on Sunday, calling for the home fans to respect what he achieved, his decision to move to their bitter rivals and his contribution to helping them win a 20th Premier League crown.
WOTT
doesn't like Colin's chances...
"Sometimes I sit back and look at how beautiful the world is and it makes me realise how much of a blessing life is. Have a good day ppl :)"
This is how
Marvin Sordell
starts his day. Today it is how
WOTT
will end ours. Fare thee well, readers.