A busy day in the land of Twitter, with the Champions League in full flow and
Luis Suarez's 10-game ban for biting Chelsea defender Branislav Ivanovic
.
We have reaction to that and more in today's
WOTT
, from the likes of Olivier Giroud and John Ruddy, while Gary Gardner takes a busman's holiday from his football career.
All that and more in Wednesday's edition of the
Word on the Tweet
...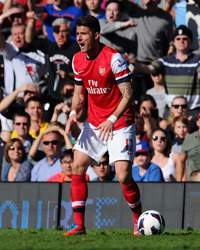 "Wow 10 game ban is defo a bit too harsh!"
Andros Townsend
is one of many footballers who feel Suarez has been put on the naughty step for a tad too long.
"10 game ban for Luis Suarez. Very strong punishment. Vital now that @FA are consistently strong on all issues eg racism, abusing refs etc"
Match of the Day
presenter
Gary Lineker
gives his opinion, calling for a more consistent FA. I'm sure you won't be waiting long, Gary.
"Décision très très dure... Very severe decision..."
Olivier Giroud
(pictured) makes sure everyone knows what he is talking about by tweeting a vague statement in two languages. Is it about Suarez? About his red card appeal being turned down? Qui sait?
"10 games for biting, 8 games for racism?! All the work done this season for anti-racism gone in one foul swoop!"
John Ruddy
is just one of the players who has called into question the FA's decision making.
"B.Munich looked so powerful last night..is the balance shifting from Spain to Germany in CL..not convinced Barca era is finished yet"
Neil Lennon
, who defeated Barcelona earlier this season, gives his verdict on the first leg of the Champions League semi-final between Bayern Munich and Barcelona.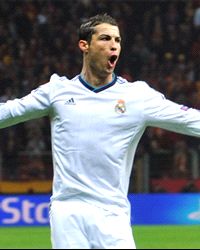 "Cheeky meal with the family watchin the game tonight…never seen a
team bully and dismantle barça like that!! Munich are breaking
boundaries!"
Manchester United's on-loan keeper
Ben Amos
breaks boundaries of his own, as the first footballer ever to tweet about eating food. #Cheeky.
"Ready to play the ball. Hala Madrid!"
Perenially slick-haired Real Madrid wonder
Cristiano Ronaldo
(pictured) on tonight's clash with Borussia Dortmund. No jokes about him being a todller and wanting to play ball, now folks.
"FIFA from now untill Real Madrid kick off career mode boom!!! Time flies when your having fun"
Aston Villa youngster
Gary Gardner
takes a short break from his career as a professional footballer to try and boost his virtual player's career on the Playstation. Busman's holiday, anyone?
"Oh the smart car is not well today...... :-(who pick me up? Lol"
Benoit Assou-Ekotto
sends out a distress signal via Twitter, confirming that he owns a Smart car. Oh, and it also broke down.