Gareth Bale
has revealed his edible secret to success, similar in flavour but differing in texture to that of
Chelsea
's
Demba Ba
.
Everton captain Phil Neville may have a clandestine gift-giving operation in his future, while Newcastle's Danny Simpson admits to being being more comfortable on the right wing than on a roller coaster.
And not to be outdone, Nathan Redmond and Neil Lennon each take to the internet to break it down pop-music style.
Read on for all these and more in
Goal.com
's latest offering of
Word on the Tweet
.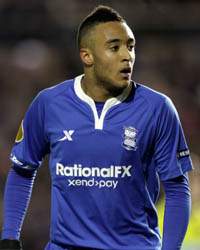 "

Uh say my name say my name, cus those other men are practice... ‪#GirlsLoveBeyonce‬ ‪#Drake‬ ‪#BigTune

"

Birmingham City's Nathan Redmond
shows everyone that not just girls love Beyonce.
"I

ask all Sunderland fans having a go at me u ever scored in a derby NO so f*** off

"

Michael Chopra
pours his heart out to those Black Cats supporters unappreciative of his social media reminiscing.
"

Training done-im off to deliver a season ticket as a surprise to an everton fan-hope he likes it!!!

"

Everton
skipper
Phil Neville
finally reveals his secret alter ego: Toffee Claus.
"Wow the rain has been relentless all day here..not seen it as bad for a while here.Anyone got a spare umbrella ella ella"

Neil Lennon
subtlely makes clear that he prefers Rihanna to B.J. Thomas.
"Strawberry jam RT ‪@joencfc‬ ‪@GarethBale11‬ jam or marmalade? ‪#AskBale‬"

Demba Ba
, self-confessed strawberry syrup addict, may now consider switching to another strawberry-flavoured product after
Gareth Bale
's latest revelation.
"

Alton Towers is class, little bit nervous for some of these rides I aint gonna lie

"

Newcastle
right back
Danny Simpson
readies his 'sickness companion' for the ride of a lifetime.
"

We are so happy to share this news with you all, we are getting married this year!‬

"

Uruguay
international
Diego Forlan
(pictured, left) reveals to Twitter that he is tying the knot with girlfriend Paz Cardoso..
"

My club suit has defiantly seen better days! Haha

"

Frazier Campbell
of
Cardiff City
has learned exactly how hard one parties after earning promotion to the Premier League.
"Cheers to the bird that just dumped a huge load on my head, if it doesn't bring me good luck I'm tracking you down!"

Stuart Holden
doesn't get mind getting hit by bird droppings, as long as old superstitions come through for the
Bolton Wanderers
man.