After failing to beat Wigan on Sunday afternoon thanks - or not - to a 94th minute equalising free kick from Shaun Maloney, QPR chairman Tony Fernandes has taken to Twitter once again to deliver one of his trademark spirit-raising motivational tweets to help spur both supporters and players on as they fight for Premier League survival.
Elsewhere, Phil Neville criticises Di Canio's recent comments on the fitness of his players, Nathan Redmond explains that there might be a ghost loose in the Birmingham City training ground and Lee Dixon joins the debate ahead of the Manchester derby with his combined Manchester United/City best starting 11.
So, without any further ado, let's find out all of the juicy details in the latest edition of
Word on the Tweet...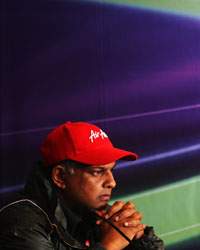 "I

ts another day. And we move on. Stay strong and keep smiling. Through adversity comes strength. I for one am no quitter.

"
Tony Fernandes
(pictured right) rallies the troops and tries to raise the spirits of the QPR faithful after their 1-1 draw against Wigan on Sunday.
"

Who steals gym trainers really? Not at the training ground for 2 days and they go missing! Really?

"
Birmingham
youngster
Nathan Redmond
reveals that there is a thief (or maybe a ghost...?) wreaking havoc at his side's training ground. Expect a Birmingham City Cluedo to hit high street shelves within the week...
"

Who's going Disney Orlando this June? Pleased to be coaching at @DisneySports again this year!

"
How touching is it that
Swansea
's
Ashley Williams
has given up some of his summer break to coach in the beautiful sunshine of Orlando, Florida? The hard life of a modern footballer...
"what do you think?
Hart,
Zab,Ferd,Komp,Evra
Carr,YTour
Tevez,Roo,Silva
VP"
Lee Dixon
tweets his combined Manchester United/City starting 11 ahead of tonight's Manchester derby. What are your thoughts?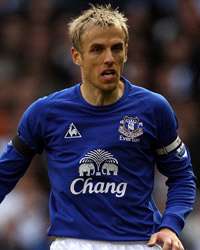 "

Always the same new manager comes in 1st thing they do blame the fitness of the players-always thought a bit disrespectful of prev manager

"
Phil Neville
(pictured left) criticises new Sunderland boss Paolo Di Canio's recent comments about the fitness of the players he inherited from Martin O'Neill.
"

Just finished watching Casino an yes it was the 1st time I've seen it! Absolute Belter of a film! Enjoyed the kids head in the vice #Crunch

"
Anthony Pilkington
reveals a less-than-cuddly side to his personality through his taste in movies.
"

I wear my life on my sleeve...so don't break my arm!!

"
Ever the wordsmith,
Kevin-Prince Boateng
shares with us another piece of deep and meaningful poetic brilliance...
"

Games Of Thrones. Why has it taken me so long to watch this series. #pureclass

"
Another entertainment suggestion, this time from
Aston Villa
's
Nathan Baker
. A fine choice, sir!