With the
Premier League
action split right down the middle between Saturday and Sunday games this weekend, we have plenty of debate, controversy and opinion to stick our teeth into with our Monday edition of
Word on the Tweet
.
Rio Ferdinand's decision to withdraw from England duty in order to carry out his own personal fitness regime catches the eye but the main bone of contention involves Wigan's Callum McManaman and his late challenge on Newcastle left-back Massadio Haidara.
Elsewhere, Gary Lineker does his best Spider-Man impression, Frank Lampard receives praise for breaking the 200-goal barrier at Chelsea and Sebastien Bassong feels aggrieved...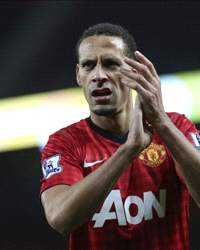 "I'm Gutted I had to pull out of england squad, but it was the right decision for my intricate pre-planned programme."
Was
Manchester United
defender
Rio Ferdinand
's withdrawal from the
England
squad pre-planned?
Roy Hodgson
got merked.
"Politically powerful players and managers hold the whip hand over England. A ballsy England manager to go head to head v them pls!"
Former
Liverpool
striker
Stan Collymore
has a different take on
Rio Ferdinand
's decision than the player in question.
"I haven't seen a replay from Calum's tackling yet. So I can't say on that case anything too. But I hope the insured player get well soon."
Wigan
utility man
Paul Scharner
sits firmly on the fence concerning team-mate
Callum McManaman
's dreadful challenge on
Newcastle
's
Massadio Haidara
.
"Massive win today! Great 3 points! #HappyStPaddysDay"
Did
James McCarthy
dance a little Irish jig in the
Wigan
dressing room after the game? Not if
Mr McManaman
has anything to do with it.
"Wow. Not even a yellow #baffled"
Newcastle
full-back
Ryan Taylor,
sidelined for the game itself, can't quite believe that
McManaman
escaped punishment for the tackle.
"Very bad tackle yes! But at normal speed I think he just missed the ball as he was clearing it and unfortunately connected with his knee"
QPR
striker
Jay Bothroyd
has more sympathy for the
Wigan
forward than most.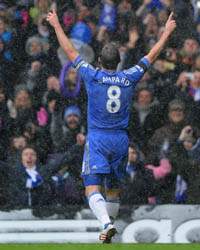 "Respect MR Lampard. 200 goals juste respect. #respect #respect et encore #respect"
Chelsea
midfielder
Eden Hazard
comes over all Aretha Franklin after
Frank Lampard
's milestone goal.
"This weekend the standard of refereeing has been terrible @FA, blatant decisions wrong, inconsistent !"
After a weekend littered with controversial decisions,
Robbie Savage
wants the FA to take some action concerning refereeing standards.
"Nothing was going for us today!wrong decisions taken against us!the 3 points were there to be taken!anyway that football! #ontothenextone"
Norwich
centre-back
Sebastien Bassong
doesn't take kindly to the decision to award a penalty to
Sunderland
after the referee judged that the ball struck his arm intentionally.

"All for freedom of the press. But not freedom to lie, hack phones and have innocent people followed. With freedom comes responsibility"
'Match of the Day' presenter Gary Lineker channels his best Spider-Man impression with his thoughts on the debate over press freedom.