For every action there is a reaction and the world of Twitter is no different, with the likes of
Florent Malouda
,
Gareth Southgate
and
Stephane Mbia
keen to discuss Friday's
Champions League
and
Europa League
draws.
Elsewhere, Robert Snodgrass offers some important advice, while Mason Bennett and Peter Odemwingie address the issue of dodgy haircuts.
All this and more in Friday's edition of Word on the Tweet, so without further ado, let us crack on...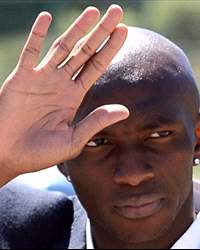 "Back from training !! This champions league draw is very interesting. Nice games to watch ..."

Florent Malouda
gives a mild description of the Champions League quarter-final draw, perhaps hinting at his frustration that neither he nor
Chelsea
will be taking part in the competition.
"Seen all CL 1/4 finalists live. 4 of the 5 best teams in this years comp will make semis. Barca, Juve/Bayern, Real, Dortmund"
Gareth Southgate
offers his verdict on the
Champions League
draw. At least he stopped short of saying four out of eight teams will make the semis.
WOTT
, however, is sure that somewhere, Adrian Chiles has done it for him...
"PSG contre le BARCA loooool"

QPR
midfielder
Stephane Mbia
(pictured) gives his succinct appraisal of
PSG
being drawn against
Barcelona
.
"If i say i trust in #QPR it's not for nothing... We will see ;)"

Mbia
goes on to declare his unwavering trust in the west London club. Well, at least someone does eh, Stephane...
"

Best advice

I received : we only get 1 chance in life so have no regrets , we can't change the past we can only affect the future"

Robert Snodgrass
offers some priceless life lessons. What could the midfielder possibly have to regret? He moved to Norwich at the... Ah, I see.


"Chelsea, Tottenham and Newcastle manage to avoid each other in the #EuropaLeague. The winners might just come from the #PremierLeague"
Former
Celtic
,
Blackburn
and
Sunderland
man
Michael Gray
gives his verdict on the draw for the Europa League quarter-finals. At last! This competition is heating up quite nicely, why have so few responded to it!?
"Seems SAF is not keen for @rioferdy5 to play for England. Big players never allow managers to dissuade them from playing for their country."
Gary Lineker
reacts to Sir Alex Ferguson's concerns of Rio Ferdinand's re-inclusion in the England squad. Don't be too loud, Gary, or you might never get a handshake again.
"With my two pair of glasses on i look like A kind of RickRossSamuelLJacksonSaha. Ahaha."

Lazio
forward
Lous Saha
reveals to the Twittersphere that he's morphed into a combined humanoid. We didn't know glasses could do that...
"Thanks to G.Popov for laughing at my haircut always. Forced me to finally let a pro do it ! #разница заметная "

West Brom's
least favourite son
Peter Odemwingie
(pictured left) banters with public enemy No.2
Goran Popov
. Better to laugh than to spit, I suppose.
"#freshtrimfriday"

Derby
forward
Mason Bennett
tries to get his hairstyle trending.
"Raining in England ? Naaaaaaa! #shocked"

Aston Villa
striker
Andreas Weimann
shows us that not only is he used to British weather, but also to the sarcam.
Bravo, Andreas, Bravo.