Joey Barton
divides opinion like no other and there probably isn't a person on Twitter he hasn't insulted - today it's the turn of Labour party leader Ed Miliband.
Elsewhere, Greg Halford is packing the social media site in for a brief while and Norwich captain Grant Holt quite literally has his eye on Simeon Jackson.
We've got the above and more in Friday's dose of
Word on the Tweet
... so as Arnold Schwarzengger would say, "C'mon, what are you waiting for? Do it now!"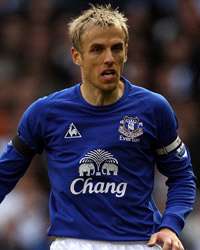 "Is there an international mans day-if yes let me no!"
On International Women's Day,
Everton
captain
Phil Neville
(pictured right) wonders if there is an equivalent for the males of this world.
Fair point, Phil. What is this? We men demand equal rights!
"I think I have more chance of being elected PM than @ed_miliband (seriously) How is he leader of the opposition,the mans an absolute cretin?"
Yay! Another tweet from
Joey Barton
. Now, as much as
WOTT
appreciates Barton giving
Justin Bieber
the odd hammering, attacking politicians is probably a step too far...
Barton for Prime Minister, anyone?
"

Last night was an atmosphere of champions league u definetly help us in this game! Merci. Spurs fan! 3 0 perfect LOL

"
Tottenham
defender
Benoit Assou-Ekotto
revels in his side's 3-0
Europa League
win over
Inter
last night and thanks the fans for their contribution.
Italians trying to play with the big boys... LOL indeed.
"Not a bad body @JacksonSimeon"
Norwich
skipper
Grant Holt
has nothing but praise for fellow Canaries striker
Simeon Jackson
after posting a topless picture of the 25-year-old.
Is it just us or is there a bromance brewing here?
"I'm coming off twitter for a while now. #laterz #headsgone"
Greg Halford
announces he's had enough of social media for now.
We'll miss you, Greg, but maybe
Nottingham Forest
will see a rejuvenated defender as a result...
"Well that wasn't much of a day off. 2 hours on the bike in the slash!"
Arsenal
legend and
ITV
pundit
Lee Dixon
tells the Twittersphere he isn't a fan of taking it easy.
At least you didn't have to sit next to Roy Keane again today, Lee!
"Finished trainings for today, our game against everton tomorrow on the FA cup, we will put all our effort to reach Wembley #wafc"
Wigan Athletic
may be in danger of relegation but that's not stopping shot-stopper
Ali Al-Habsi
from pursuing his side's dreams of reaching Wembley.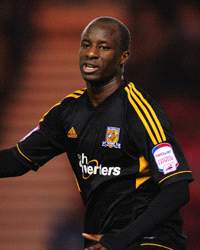 "Rehab update day 5: 1st milestone = get full range of movement non weight bearing! :) think I'm there or very close"
Good news for
Sone Aluko
of
Hull City
(pictured left) as the forward gets on the proverbial treadmill in his bid to return from injury.
"Ask for a glass of ice over here and you're lucky to even get one whole cube of ice!"
The first world problems continue for
Alejandro Bedoya
of
USA
as he laments a lack of ice.
WOTT's advice: head to Russia, there's plenty of the stuff there and rumour has it their football clubs pay very well...
"Afternoon TArmy...trust all is well...I have had a very interesting week.. Which I will fill you in on later...."
There's an element of mystery involved as
Reading
striker
Jason Roberts
prepares to break some news to his fanbase.
We would like to refer Jason to our friend Mr Schwarzenegger once again: 'Come on, what are you waiting for!'