Chelsea
's comfortable
2-0
win to book safe passage into the quarter-finals of the
FA Cup
against
Middlesbrough
at the Riverside Stadium, and the aftermath thereof, has dominated discussion on Thursday.
The club's interim manager, Rafa Benitez, found support from an unlikely source after his explosive post-match press conference in which he admitted that he will be leaving at the end of the season.
Elsewhere, Kei Kamara is happy to be read about but not recognised, Stan Collymore makes a bold prediction and George Elokobi takes on the weather.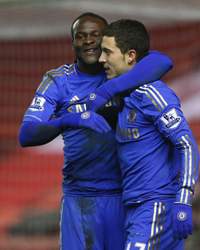 "Nice win guys. See you in manchester for the quater final. Have good evening twitter."
Eden Hazard
(pictured far right) sounds relieved that
Chelsea
still hae the chance to win some silverware this season after their
FA Cup
win over
Middlesbrough.
"great to be in the quarter finals great team performance always good to get a goal too #chelsea"
Chelsea
winger
Victor Moses
(pictured near right) is feeling self-congratulatory. Unsurprisingly, no mention of The Press Conference.
"Prediction. Mourinho in summer groom Lampard/Terry in a 3 year spell, leaving them to manage club when he goes to Man United."
Former
Liverpool
striker
Stan Collymore
goes extremely bold with
Jose Mourinho's
managerial future.
Manchester United
AND
Chelsea
. Really?
"On a serious note re Rafa. He may not have been a good fit for Chelsea but he has a point. At least he cares and wasn't scared to speak out."
'Match of the Day' presenter
Gary Lineker
throws his support behind interim
Rafa Benitez
for criticising the club's board and a section of their fans.
"The instagram account wesleysneijder is FAKE!! It's not me. Have a wonderful day everyone.."
Galatasaray
midfielder
Wesley Sneijder
(pictured below left) is the victim of identity fraud. There really is nothing worse than people pretending to take photos for you.
"The Bayern vs Dortmund game on @ESPNUK tonight has been unreal so far, great tempo and quality. Great advert for German football!"
Is this much-coveted
Stoke City
goalkeeper
Asmir Begovic
's way of telling us he fancies a switch to the Bundesliga?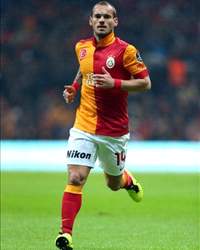 "Watching Bayern munich vs dortmund espn german football is very good and love the stadiums over there"
Could
Everton
utility man
Phil Neville
be doing the same? Something tells
WOTT
that not only has that ship sailed but it has, in fact, sunk.
"Watching my son representing the family with the U7s in Cobham city #champions"
This might just be the closest that
Chelsea
's forgotten man
Florent Malouda
has come to a football pitch all season.
"It's really a Dream/Blessing to be on a train in United Kingdom and seeing someone reading an article bout u in the newspaper. #butterflies"
Norwich
forward
Kei Kamara
doesn't sound too offended that the traveller didn't seem to recognise him on the train, though.
"So I'm telling the weather to stay warm, or the gloves are defo... coming out"
When
Wolves
defender
George Elokobi
tells you to do something, you darn well do it. Absolute tank.