Roses are red, violets are blue, footballers are on Twitter, and we are too! That's right, it is time for the Word on the Tweet, where love is well and truly in the air.

We have players wishing their followers a lovely day, one demanding a card from his captain and, of course, there is the fallout from a fine night of Champions League football as Manchester United drew 1-1 at the Santiago Bernabeu with Real Madrid.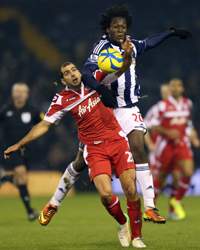 "Happy valentines day to all da hot spices out there! Nuff love peeps :-)xx'"


Andre Wisdom
kicks off the messages of love (I think). Can anyone confirm or rule out what the
Liverpool
defender means by "all da hot spices out there"?
"I wish u all a nice valentine day! God bless..."

West Brom
striker
Romelu Lukaku
(pictured) gives everyone his best for the day. Love you too, Romelu!!!
"Morning all 14th feb valentines day cant say im a fan but please send me some pics of the gifts that you sent/recieved-will post mine later"
Is
Everton
captain
Phil Neville
trying to get some last-minute shopping ideas from his followers? We here at
WOTT
really hope he hasn't forgotten...
"Where's my card @fizzer18?"
Uh-oh.
Phil Neville
(aka @fizzer18) may just be in trouble with team-mate
Darron Gibson
, who doesn't seem to have gotten his
meaningless piece of paper
wonderful card this morning. It's just lost in the post, I'm sure!
"Happy valentines day for all people in love!!!!! Have a good day and hopefully we can give you a win as well :-)"

Liverpool
left-back
Jose Enrique
wishes a very happy Valentine's Day to his followers ahead of their game against
Zenit St Petersburg
in the Europa League. But what if they're not
Liverpool
fans,
Jose
? What if they don't want you to win?
"I'm out of game tonight through suspension - 3 yellow cards in the Champions League. Let's go Blues! #geezers"

Chelsea
defender
David Luiz
will miss his side's Europa League tie against
Sparta Prague
tonight. Poor geezer.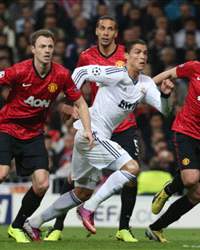 "Anyone else feel like they seen that @cristiano header from last night somewhere before?? #Moscow2008 !?"

Rio Ferdinand
gets a sense of
deja vu
after former team-mate
Cristiano Ronaldo
's brilliant header against
Manchester United
, which levelled the tie at 1-1 with one game to go..
"What an exciting game yesterday!"

Cristiano
(pictured) gives us his somewhat understated view on the match.
"Off to Dubai races with the lads. Anyone got any tips??"

Sunderland
defender
Titus Bramble
is off to see the gee-gees. Our advice? Steer well clear of the mince-meat sandwiches.