With another weekend of frantic
Premier League
action out of the way, our favourite footballers can get back to their second love... tweeting.
Of course, Monday's edition of
Word on the Tweet
contains all the fallout from Manchester United's 1-1 draw with Tottenham on Sunday.
But for those of you who, like us, are simply interested in the weirder side of the football Twittersphere, do read on...
"Hard game....would have took a draw before game. Stone wall penalty not given for us tho!!! We don't get all the decisions like every1 says!"
Rio Ferdinand
berates the decision not to award
Manchester United
a penalty for a foul
on
Wayne Rooney
.
Given the striker's recent conversion rate, it's probably for the best.
"I didnt know what means (fergie time)... NOW i know... !!! Merci SPURS LOL"
Tottenham
defender
Benoit Assou-Ekotto
stumbles across another invaluable addition to his English phrasebook after Spurs snatch a draw in the third minute of stoppage time.
"For the record I think De Gea can be a great GK. He is young in an unforgiving environment and will physically mature in next 2 years."
Despite hammering the Spaniard for his part in
Tottenham
's equaliser on Sunday,
Gary Neville
is keen to hail
Manchester United
goalkeeper
David De Gea
's potential.
"Big result for us today #greatresult #greatfans #greatclub #cfc"
Ashley Cole
thanks the
Chelsea
fans for braving the icy conditions to see their side move 11 points clear of their London rivals.
I'm sure this isn't a thinly-veiled dig at Arsenal, of course.
"Respect me for my job not what I do at home #mylife1life I don't ask u"
And, true to form,
Cole
eventually snapped at those giving him abuse on the social networking site.
"Morning all...only one game this week but the biggest... Have a good day and thanks for ur messages but I honestly don't deserve them at all"
On a slightly more positive note, here is
Swansea
defender
Angel Rangel
coming over all modest after receiving praise for driving around handing out food to the homeless.
What a nice lad!
"And now today @jdeguz asked me if something was to go in the garbage? WTF were not in Canada bro"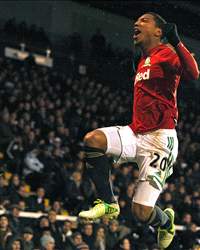 Ashley Williams
is quick to remind
Swansea
team-mate
Jonathan de Guzman
that he is in a country with "rubbish" weather and good football, not the other way around.
"Fell asleep after the 1st half of the game last night and woke up to a Ravens win this morning. Congrats! Good luck in the Superbowl!"
Stoke
keeper
Asmir Begovic
just can't keep his eyes open after a tiring day spent picking the ball out of his net three times thanks to
Swansea
.
"Looking forward to the NFL tonight. Nothing brightens my Sunday evenings up like a load of meatheads kicking **** out of each other..."
Controverial
Marseille
midfielder
Joey Barton
takes a break from attempting to channel his intellectual side in order to watch men tackling other men.
"When you have man flu and lose your taste, is there anything you can do to get it back? Couldn't taste my Sunday Dinner today.#gutted"
Stoke
striker
Michael Owen
may be clinical in the box, but he is decidedly less so when it comes to getting rid of the infamous man flu.