Christmas day is almost upon us and with it being the day before the 'Big One', as you might expect, plenty of footballers have got one eye on presents, crackers and a generous portion of turkey.
Elsewhere, we have plenty of reaction to the weekend's action, with Carlton Cole, Ashley Williams and Papiss Cisse all using the social networking site to plead their cases after being involved with controversial incidents in the last round of games.
"Merry Xmas for everyone."
Real Madrid
forward
Cristiano Ronaldo
keeps it short but sweet on Christmas eve.
"Just landed back in Blighty to be greeted by a cold, grey, drizzling sky. Oh, how I've missed you.."
Marseille
midfielder
Joey Barton
(pictured, right) is happy to be back in England, well, sort of, at least he didn't have to catch a train.
"Right, Christmas eve. Better start thinking about buying some presents. "
Former
England
striker
Gary Lineker
leaves his shopping right to the last minute. Risky, Gary, very risky.
"Sometimes frustration is bad, I respect my manager&his decisions! Great win 4 the club & let's hope we can do the same in the next 2big game."
Newcastle
forward
Papiss Cisse
reacts to his substitution during the club's 1-0 win over
QPR
at home at the weekend, which was greeted with boos by the home faithful.
"Good point earned today. Team defended well against a top quality side. Obviously the RVP incident was unintentional. #OverReaction"
Swansea
centre-back
Ashley Williams
responds to claims from
Manchester United
boss
Sir Alex Ferguson
that his clearance could have broken
Robin van Persie's
neck during their 1-1 draw yesterday.
"Rafa out? Not convinced he will consistently deliver 'Guardiola' style football like the Owner craves but I'm sure he will deliver a team "
After Chelsea's
8-0 win over
Aston Villa
at Stamford Bridge,
Stoke
striker
Michael Owen
lends interim boss Rafa Benitez his support after a difficult first month in charge.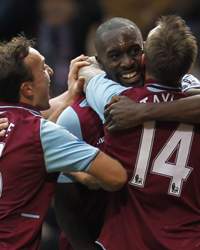 "Re:the red card, hopefully something can be done to rescind it, for me it wasn't even a challenge because I didn't see bainsey behind me... "
West Ham's Carlton Cole
(pictured, left) pleads his case after his controversial red card against
Everton
on Saturday.
"Monopoly night with wife and kids at Home!! Childhood memories from back in the day!!"
Retired
Manchester United
goalkeeper
Edwin van der Sar
gets ready for what the holidays are truly all about, hours of playing board games, or shall we came them 'bored games'.
"My 3 year old kicking off having a tantrum.. Is it cruel to tell him Santa doesn't exist? Haha "
West Brom
utility man
Steven Reid
goes close to breaking the final taboo. Of course he's real.
"I'm driving home for Christmas!"
Fulham
goalkeeper
David Stockdale
channels his best Chris Rea impersonation.