After
Manchester City
's
Carlos Tevez
tried and failed to teach team-mate
Mario Balotelli
how to wrap a Christmas gift in a recent comical video from the duo, it seems
Jonjo Shelvey
could do with a hand as well.
The Liverpool man has self-admitted "zero tekkers" at packaging presents as December 25 draws closer.
Elsewhere, Rio Ferdinand is not enjoying the shopping that comes with Christmas, much unlike Gary Gardner who is loving absolutely everything, while Danny Rose's recent appearance on television is no reason to give up the day job, according to Fraizer Campbell.
It's all here, in the
Word on the Tweet
…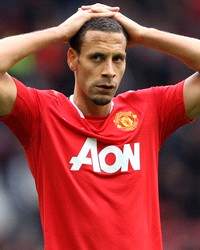 "Just wrapped ‪@jonesloulou‬ presents gonna apologise now for the standard of the wrapping haha ‪#zerotekkers‬"
Liverpool
midfielder
Jonjo
Shelvey
has obviously been taking tips from
Mario Balotelli
and not
Carlos Tevez
after the
Manchester
City
pair's recent video.
"Shattered after xmas shopping last night.....carrier bags under me eyes this morning though!! train this tiredness out today in the gym!"
Sticking with the Christmas theme,
Manchester
United
defender
Rio
Ferdinand
(pictured right) bemoans his "carrier bag" eyes after a shopping session.
"I'm getting so excited for christmas!!!!!!!!!!!"
While
Aston Villa
'
s
Gary
Gardner
just can't contain his excitement. !!!!!!!!!
"Just seen Danny rose on ‪@SkySportsNews‬ and he was very very stiff! No chance of an acting career after football! Lol"
Fraizer Campbell
, meanwhile, hardly offers
Sunderland
team-mate
Danny Rose
any compliments after the loanee's appearance on
Sky
Sports
News
' annual Premier League club shop festivities round-up.
"‪#Tips‬. Yesterday my son and I said no TV when we eat dinner. Allowed us to have a really nice family conversation with good banter."
Christmas is a time for family, and
Black Cats
forward
Louis
Saha
has a top tip on how to maximise bonding (and banter) time. #ThanksLouis.
"Training was no joke today. Fault like pre-season last 2 days. Need to do some sit-ups now tho, Body fats being taken in the morning"
It's not all holiday fun for these footballers, though.
Manchester
City
centre back
Joleon Lescott
explains why training is no laughing matter. Better keep off the old turkey and pigs-in-blankets 'eh Joleon.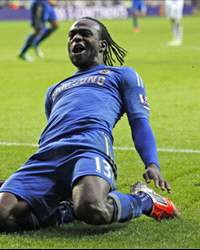 "looking forward to the big game tonight against Leeds ‪#Chelsea‬"
Victor
Moses
(pictured left) is another star who can't touch the mince pies with
Chelsea's
big
Capital One
Cup
clash with
Leeds
to prepare for.
"Good day today had the young lads up singing songs for the 1st team!"
A unique Christmas carol service sweeps the
Tottenham
training ground, and delights
Jermaine Jenas
.
"Santas grotto done little man loved it!! Pizza express now and then buy last few crimbo presents then were done!!"
Norwich
winger
Anthony Pilkington
, is also out and about with the countdown to Christmas in swing, and having a fun time of it too!