Christmas is just around the corner, but presents are already being dished out as
Steve
Sidwell
and
Michael Owen
celebrate their birthdays on Friday.
The now 30-year-old Fulham midfielder and 33-year-old Stoke striker have been revelling in gifts and well wishes from their families, friends and followers.
Elsewhere, Joleon Lescott tells the jokes, Benoit Assou-Ekotto wants a warmer clime and Jose Enrique eats breakfast in
Word on the Tweet
.
"Thank you @KrysySidwellx for my 30th b'day present. Still in shock and speechless. Didn't have a clue #1wife xxxx"
It's
Steve Sidwell
up first, and jsut look at what he got for htting the big 3-0! ->.


"Happy birthday the ginger iniesta @sjsidwell have a good one stealth! Your my boy blue!!! "
On-loan
Hull City
goalkeeper
David Stockdale
has some very flattering words for his Fulham club-mate.
"Best joke I've heard to come out of a Christmas cracker yet. What's furry and minty? A Polo Bear. #CrackerJokes"
Christmas is a-coming, so
Joleon Lescott
dons his paper hat and makes us groan with his funnies.
"Good morning people. Having breakfast in my house and then go to training ground for some treatment. Have a good day "
WOTT
wonders where
Jose Enrique
usually has his breakfast, the driveway? Maybe the Post Office?
"Wow, thanks everyone for all of your Birthday messages. Very kind. 33 today. About to go downstairs to open my presents! #bigkid"
Don't forget about little
Michael Owen
! Can you believe he's 33?! Seems like only yesterday he was scoring against Argentina and had actual working hamstrings.
"Be careful of the black ice , drive slow"
Stay safe kids.
Jay Bothroyd
said so.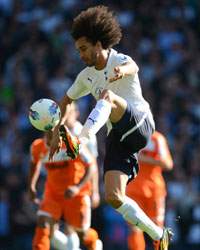 "This Saturday before the Botlon match, Holden's Heroes will be at Middlebrook collecting gently used clothes and non-perishable food items!"
WOTT
always suspected
Stuart Holden
was a thoroughly lovely chap, and, after sharing information about his Christmas charity, we're happy to find out that he really is!
"Soooooooooo cooooollllldddd lol "
How does a man with as much hair as
Benoit Assou-Ekotto
get cold at all?!
"Home to chill with cuppa before getting kids from school #feetup"
That's a nice, normal Friday afternoon there for
Liam '£20 notes for bog roll' Ridgewell
.
"Funny day at training today....pity the weather didn't reflect our mood! #gloomy"
It's all LOLs at
Manchester United
, even some rain, a busted eye and Nemanja Vidic's return to fitness (meaning he might be out of the team pretty sharpish) can't dampen
Rio Ferdinand's
spirits.