After a weekend of enthralling Premier League action, Word on the Tweet returns with the world of football's best tweets about all things unrelated to the sport.
The West Brom boys are in high spirits at training as they find themselves in fourth position in the league table despite two consecutive losses, whilst Kevin-Prince Boateng has a cheeky dig at Luis Suarez and Sergio Busquets for diving.
All that, and stacks more, in Monday's Word on the Tweet…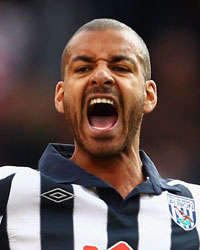 "Banter at training was on fire today!!"

"Guess the locker....... pic.twitter.com/qjgXzdEr"
West Brom
midfielder
Steven Reid
(pictured, right) and his team-mates are in high spirits, but it's proving to be a problem for some as one unlucky player has his locker sabotaged at training.
"Some mistakenly feel #Leveson is about a state controlled press. No one wants that. Worse still perhaps is a press controlled state?"

"Interestingly some of you say I should have no view on politics. Even if you disagree with me I'm as entitled to my opinion as the next man."
Ex-Tottenham
striker and TV pundit
Gary Lineker
shares his views on the Leveson Report, before quickly being shot-down by his followers.
WOTT
senses a political showdown between Lineker and Monsieur Barton in the offing.
"New Song of usher-dive!!!love it...;-)"

"'@Okhalidi: @KPBofficial Dive? Suarez and busquets will love it for sure :P' hahaha."
Milan
midfielder
Kevin-Prince Boateng
displays shocking taste in music before retweeting a swipe at
Sergio Busquets
and
Luis Suarez
for diving.
"The epic moment you drive behind a police car with the siren on and cut through 10mins of traffic! #buzzing"
Tottenham midfielder Andros Townsend chases police through London. Don't try this at home, kids.
"I'm not a fan of Monday mornings at the best of times. This weather is making it 10 times worse. pic.twitter.com/qkP0TvXX"

Sunderland
defender
Titus Bramble
insists that Monday's are as bad for footballers as they are for everybody else, especially with the current Arctic conditions.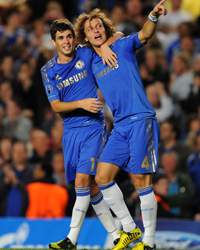 "Follow this ugly guy j26terry haha ! Treatment room, ramiresnascimento and mribeiro99 at the background ! http://instagr.am/p/Sxn45sjHdr/"
Chelsea defender David Luiz (pitured, left) further enhances his reputation as the joker in the Blues' dressing room with a dig at captain John Terry.
"Sometimes.... I just have to shake my head at Jeremy Kyle in disgust LMAO #IsThisLife? haha... "
Birmingham City
winger
Nathan Redmond
spends a bit of quality time watching Britain's finest.


"Ill change em then shall I??? '@James_Edmundson: @WayneRoutledge your eyes terrify me'"
Swansea City
attacker
Wayne Routledge
gets a bit of stick from his followers for having 'terrifying eyes'.