It's birthday time in the
Paul
Scholes
household, and former
Manchester United
misfit Ravel Morrison is first in line to hail "one of the best footballers ever".
However, Scholes' team-mate Rio Ferdinand has other things on his mind in the form of how to say warm on the school run. It's OK though because, elsewhere, Andros Townsend shows him how to get down with the kids.
In other news, we have singing bad boys in the shape of Joey Barton, charitable Canaries from Carrow Road, a teary Toffee reunion and a wannabe Ibrahimovic.
Of course, it can only be one thing - it's Friday's
Word On The Tweet!
So, without further ado, let's get cracking, shall we?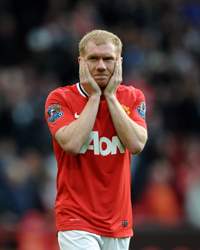 Wishing the best player I've played with and against one of the best footballers ever Paul Scholes happy birthday #legend
I'm sure Scholesy (pictured right, overwhelmed) will be delighted to receive a birthday Tweet-out from the one, the only, West Ham midfielder,
Ravel Morrison.
"Brrrrrr it is cold out here today! Is it ok to drop the kids at the school gate with a little kiss,a dead arm+push them in?! Or walk em in?!
"
Manchester United defender
Rio Ferdinand
gives an insight into the type of tough decision every loving parent has to make.
"Spending the morning with my goddaughter then training in the afternoon = #perfectday"
Tottenham's
Andros Townsend
shows old Rio the way to go when it comes to dealing with children...
"Very interesting article about ibrahimovic on the daily mail online. Love it!!!!"
Sheffield Wednesday striker,
Jay Bothroyd
has clearly been picking up some striking hints and tips from the Mail - the English Ibrahimovic? No, me neither.
"Today one shall be listening mainly to John Coltrane...."
Where would a WOTT be without a cultured tweet from Marseille's
Joey Barton
.... Wait - what!??
"Feeling unknown. And you're all alone. Flesh and bone. By the telephone. Lift up the receiver. I'll make you a believer..."

Ok
Joey,
John Coltrane? Fine. Reciting lyrics from Personal Jesus? No thanks.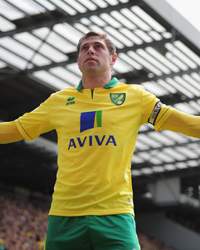 "The skipper is back on twitter! Get following @Grantholt31 needs 22k followers by next Thursday to win a bet for #ChildrenInNeed
"
I don't think anyone at Carrow Road is going to forget it's Children In Need tonight, thanks to goalkeeper,
John Ruddy.
"Amazing to see the Boss,staff and the Everton Lads at finch farm yesterday for a quick visit.Really happy to see the blues flyinghigh #Blues
"
Aww, ain't that nice?! Former Everton midfielder,
Tim Cahill
gets all teary-eyed at being reunited with his old club. Bless.
"Newcastle time!!!"
Just to clarify, Swansea striker
Michu
is talking about the upcoming match against Newcastle - not a night out amongst the Geordies. Presumably.