We're got soaring Swedes, canines on automobiles, humble
Premier League
stars and questionable snacks in store for Thursday's
Word on the Tweet
, so let us dive right in!
Well, after watching the majestic Zlatan Ibrahimovic fly through the air like a ponytailed superhero to crush a dishevelled England on Wednesday evening, the Twittersphere has been buzzing with praise for the mercurial talisman.
Here's a selection of the best reactions to his four-goal demolition job...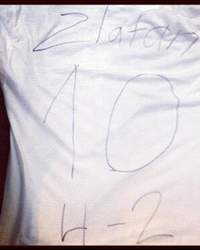 "Take a bow #ZlatanIbrahimovic! Unbelievable tekkers!"
Stoke
keeper
Asmir Begovic
leaves us in no doubt as to what he thought of Ibrahimovic's effort.
"Zlatan just silenced any doubters he had...ruthless tonight"
Rio Ferdinand
is also probably happy that he was missing that particular duel with the striker last night - could the
Manchester United
defender have coped with Ibra?


"My training shirt today ! Haha banter !!"
John Guidetti
of
Manchester City
pays tribute to his compatriot during a training session with a slightly crude, if sentimental training kit effort (pictured right). Well done John.
"If only the English FA could have given Ibrahimovic a cap or a run out before those pesky Swede's nabbed him... "
Ah,
Joey Barton
- always worth a tweet or three. The
Marseille
hard-man links the rumblings over Wilfried Zaha to an alternate reality where Ibrahimovic powers England to a World Cup victory before skulking off with a swagger.
"That was obscene. What a goal"
Michael Owen
gets a bit hot and bothered after seeing that 30-yard bicycle kick. Avert your eyes, sweet
Stoke
prince!
"never thought I would be so blessed to be enjoying my Football, Teammates and Life as much at 34yo in the Premier League..#ontosaturday"
Away from the Ibrahimovic chatter,
Jason Roberts
sounds like a contented man as he cannot quite believe his luck at still featuring regularly for
Reading
at the grand old age of 34. Good on you Jason, leading the way for the golden oldies.
"I'm a celebrity" themed lunch at the training ground today! Snakes, spiders & kangaroo testicles in the mix...no thanks!"
Samuel Ameobi
reveals that
Newcastle
are really getting into the spirit of 'I'm a Celebrity ... Get Me Out of Here!' by serving up some questionable grub in the canteen - what's the bet of a sudden stomach bug striking the squad before the weekend?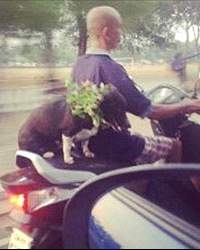 "Look at this ishhh!! A dog is riding on the back of a moped #ONLYinINDIA"
Meanwhile,
Rohan Ricketts
is juggling his time between playing for
Dempo
in the I-League and watching canine chaos unfold on the roads (pictured left). Godspeed, little doodle.
"Feel proud of being the #Denmark captain in the end of the game taking over from @bendtnerb52! Captain for Ur country: every boy's dream ;)"
Simon Kjaer
shows us how much it means to be running the show for the
Danes
- to be honest, Kjaer still does slightly resemble a boy, but
WOTT
is still happy for the imperious centre back.