Rio Ferdinand
should have a lot on his plate at work given that
Manchester United
have just ended a frenetic double header against
Chelsea
.
However, it seems the former England centre-back has been busying himself with a discussion over whether Cristiano Ronaldo and Lionel Messi have yet surpassed Diego Maradona.
Meanwhile, his ex-United team-mate Gary Neville is giving politicians an earful via Twitter, whilst brother Phil has been getting his Everton cohorts to grow moustaches.
All this and more in Friday's edition of
Word on the Tweet
...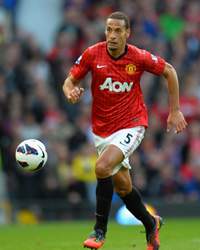 "‪#BestFootballPlayerEver‬ Diego Maradona.
"Messi + Ronaldo stats are a joke...on another planet from everyone past + present....stats are not the be all and end all though!
"‪#BestFootballPlayerEver‬ When Messi/Ronaldo win the league with a team that isn't winning things + then the World cup then I'll reconsider!"


Manchester
United
defender
Rio
Ferdinand
thinks
Lionel
Messi
and
Cristiano
Ronaldo
are out of this world, but believes
Diego
'hand of god but no hard feelings' Maradona
is the best player ever.
"I have to say that yesterday i was trying pro evolution soccer and i really like it. Really improve from last year!

"I dont know wich one play now!!!! I will try play pro a bit more. So good in fifa already haahahahah :)))"

Jose
Enrique
sparks up that old age debate; Fifa or Pro Evo. If only
Brendan
Rodgers
could get his
Liverpool
players to play as well as his '
ultimate team'
.
"Max sentence £2,500 in criminal system for Terry trail FA pun. of Suarez and Terry combined £260,000 and 12 games

"Find it difficult to take from a PM that is using football for publicity to fight a societal problem. Do your job!!!

"My point on first tweet is the FA treat racism more seriously than the courts. Politicians stay out of the game. Concentrate on your job!"
TV pundit extraordinaire
Gary
Neville
embarks on a rant at the government and their part in football following recent high-profile racism cases.
"Not the greatest sleep ever, Harry wrapping both arms around my neck while asleep and Georgie using my head a his pillow! Love it though X"

Anthony
Gerrard
, cousin of Steven and
Huddersfield
Town
defender, bemoans a poor night's sleep courtesy of his pesky kids, as least
WOTT
hopes he's talking about his children.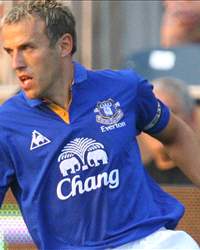 "Can't stop watching Man Vs Food... Adam Richmonds body must be falling apart!"
Footballers must be in peak condition all of the time, sticking to strict diets and training hard. So when
Wayne
Routledge
indulges in
Man vs Food
it must be like us normal folk marvelling at their physique on the pitch…
"Training done-train to London now-Everton boys supporting Movember-Kevin miralles starting early"

Everton
skipper
Phil
Neville
reveals how the Toffees' players will be sporting hairy facial additions to their kit for this month.
"#007"
And lastly,
Kyle
Naughton
keeps it short and sweet, but shaken not stirred.