It is almost November and after a rather dismal summer weather-wise, temperatures were bound to plummet sooner or later.
But this annual occurrence still presents a shock to our favourite footballers, although for Jason Roberts the change is self-inflicted.
Elsewhere, Gary Neville proves he still never misses a chance to bash a colleague, Michael Owen prepares for another season of bench-warming by embracing technology and it turns out Marvin Sordell has never watched a James Bond movie... really?!
Welcome to
Goal.com
's round-up of your favourite footballer's weird and wonderful tweets on
Word on the Tweet
...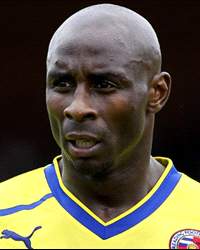 "Wow, it's getting cold up North!!"
You can take the boy out of the South, but never the south out of the boy as on-loan
Middlesbrough
midfielder
Josh McEachran
shows.
"8.4 degrees in the Ice Bath.......not even a challenge......
"
Elsewhere,
Reading
striker
Jason Roberts
is inflicting his own temperature drop.
"Try to talk without thinking to calm down a argument it's like trying to press hard the accelerator when u turn in a rainy day. #breathhhh
"
Come on now
Sunderland
striker
Louis Saha,
let's drop the metaphorical attempts and stick to the football shall we?
"I never shake hands with a goalkeeper. Not by disrespect, it s just i dont want my hand full of spat from their gloves. Lol
"
And while you're at it
Louis,
probably best to steer clear of these pre-match antics too - we don't want another 'shake-gate' scenario now would we?
"It's taken a while, but finally bumped into someone with a better tan than me. You win @TomDaley1994"
BBC
pundit
Gary Lineker
is gracious in defeat having received a sound beating in the tanning department. Still, a solid 9.4 for effort though Gary.
"'@GeoffShreeves:Beautiful day.On way to interview @WayneRooney as pre-match feature ahead of Chelsea v Man U this sunday!' Don't cock it up"
Sky Sports
pundit
Gary Neville
gives an insight into the Sky's support structure for their colleagues.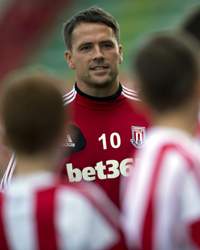 "Morning all. Just added a new blog to the News section of my App. It's about people's interpretation of loyalty. Look forward to your views!"
And people thought
Stoke City
striker and technological genius,
Michael Owen
just warmed benches for a living... Shame on you all.
"I have never watched a James Bond film but i wanna watch #Skyfall. I have no idea why :s. What should i be expecting?
"
Somebody should really tell
Bolton
striker
Marvin Sordell
to just watch a James Bond film...
"Can someone wake my #Driver @DannyGraham10 to wake up while driving!"
Wayne Routledge
reveals that, bored with his profligate career at
Swansea City, Danny Graham
has turned to an altogether more dangerous hobby in 'sleepdriving'. Don't try this at home kids.

"Why do people use numbers to describe positions in football..... Is it too much effort to say the actual position???"

And finally, former
Hull City
midfielder,
Richard Garcia
lines up his career-move into football punditry with this top quality analysis.