The Manchester City team-mates face off over the perennial word-based board game while Eden Hazard live-tweets his own nap and Ravel Morrison crowns the best ever footballer
Footballers have a reputation for not being the sharpest tools in the box. It's unfair, of course - they're as bright or as dim as the rest of us, except that most of them leave school early to join club academies or turn pro.
So it was good to see Joleon Lescott and Micah Richards engaging in some intellectual activity on their way to a Champions League date with Ajax - even if some of the words that they played in Scrabble were the likes of, well, "of".
Alongside the evidence of that game, Tuesday's journey into football's Twittersphere unearths Eden Hazard falling asleep and Ravel Morrison revealing his tip for the sport's best ever player. And no, it's not Ravel Morrison...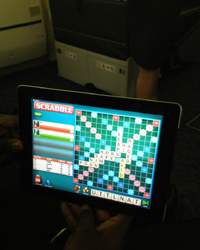 "45 mins to Holland, get a game of Scrabble in with Micah.
"Their can only be 1 winner, he wants the rematch but I've always been told quit while your ahead"
On the way to
Manchester City
's fixture against
Ajax
,
Joleon Lescott
pulls out 'avid' to earn bragging rights over
Micah Richards
.
"Morning TArmy.....in the Ice Bath ALREADY ....can't wait for training...might just wait for them out on the Pitch....Haha #eager"
Old pro
Jason Roberts
shows the young'uns how it's done.
"Match day and my ankle feels good was a bit worried couldn't sprint treatment and tablets did a world of good!!"
Wolves
loanee
Jermaine Pennant
is eager to get back in action.
"I always look at the time when its 11:11. That's weird!!!"
Josh McEachran
's pitch to write the next 'Paranormal Activity' movie didn't go down so well in Hollywood.
"Naturally disappointed to miss Chelsea game with a hip injury but obviously want to be back playing for Spurs as soon as I can"
Tottenham
's
Mousa Dembele
rues his unavailability for Saturday's 4-2 reverse.
"Petite sieste. ZzzZzzzZzzzZzz"
Eden Hazard
live-tweets his own nap. Getting in the zone for
Shakhtar v Chelsea
...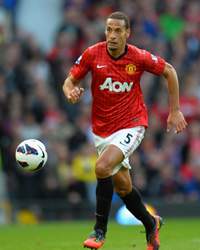 "Up and feeling fresh!! Shave time I think! Foam or gel?? Is there a difference?? Nivea, Gillette etc let us know pls!! #NotAnAdvert !!!"
Don't use either,
Rio Ferdinand
. Try
WOTT
's soon-to-be-patented method of releasing a rabid wolverine on its chin and seeing what happens.
"Morning tweeps!!!lfoggy morning...lets work and hopefully a tiny bit of sunshine will show up! #bigsession"
After
Norwich City
's win over
Arsenal
, it's a wonder that the skies aren't still full of rainbows for
Sebastien Bassong
.
"watching clips on ronaldinho.. Unreal best player ever"
WOTT
is surprised that
Ravel Morrison
overlooked himself in that list.
"Ur my ..... Ur my baby baby baby baby"
Oh,
Henri Lansbury
.
WOTT
didn't know that you felt the same way!