The main issue which has dominated the headlines this weekend involving various players and teams refusal to wear the Kick It Out shirts before their respective league fixtures has seen several footballers take to Twitter to voice their opinion on the matter.
Elsewhere, Joey Barton cannot quite believe what has happened to this country since he left for France, Gary Lineker becomes an idiot abroad and Raheem Sterling sounds really rather pleased with himself.
"The cries for strong leadership grow from fans, players, clubs, the press and parliament. Our governing body must govern! #SPEAKandLead"
PFA chairman Clarke Carlisle wants to see more action from the Football Association.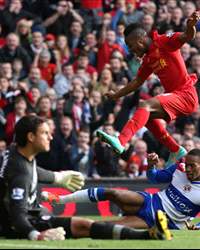 "I just think more needs to be done ! My opinion. I'm not against @kickitout just think more should be done worldwide "
Sheffield Wednesday
striker
Jay Bothroyd
gets involved on this weekend's big talking point.
"Football has made huge strides forwards on all social issues. PFA,make sure the first bricks of a Berlin Wall haven't been laid this weekend"
England
coach and former
Manchester United
stalwart
Gary Neville
hopes that this weekend doesn't start a new trend.
"Some times it feels like I'm dreaming , but then again god is good "
Liverpool
winger
Raheem Sterling
(pictured above-right) is understandably pretty happy after scoring his first senior goal.
"How did he only get 4 months and the guy who interrupted the boat race and never assaulted anyone got 6 months? Have I missed something? "
Marseille
midfielder
Joey Barton
responds to the news of the jailing of the Leeds fan who attacked goalkeeper
Chris Kirkland
on Friday.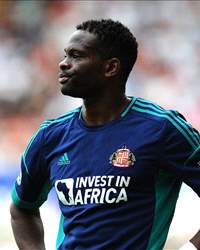 "Thanks everyone for the comments from yesterday's game really enjoyed Being back on the pitch."
Birmingham City
's
Ravel Morrison
basks in his rave reviews after an excellent display against
Leicester
City
.
"When #LanceArmstrong loses 7 titles and reputation, he still got 7 years of great Sponsors deals."

Sunderland
striker
Louis Saha
(pictured left) considers whether the disgraced cyclist will be too downhearted after being stripped of his Tour De France wins.


"Lost in Tarragona! No, It's not a movie, I am actually lost in Tarragona."

Gary Lineker
, a former
Barcelona
player in the 1980s, seems to have forgotten his way around Catalunya.


"Just arrived at the hotel in Barcelona training later at the camp Nou!"

Celtic
midfielder
Joe Ledley
sounds excited for his team's game against the Catalan giants on Tuesday.


"FIRST full day as a married man!! Wow! Very blessed to be married. #Happiness."

Former
Bolton
midfielder
Fabrice Muamba
tweets some good news after a difficult year both on and off the pitch
.