Friday September 21. Remember the day.
It is the day footballers everywhere stopped. Stopped talking about football, perhaps even stopped playing it, because a monumental event happened. The launch of the iPhone 5.
There were, of course, other topics being talked about in the world of Twitter, with the upcoming clash between Liverpool and Manchester United, as well as goalkeeping issues at White Hart Lane.
So come one, come all, for the delights of the Word on the Tweet...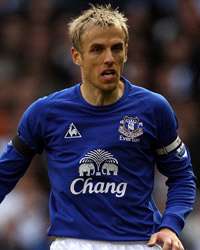 "Anyone camped outside apple waiting for the new iPhone???"
Phil Neville
kicks us off with the iPhone chatter, asking if anyone in the footballing world is desperate enough to queue up for a new handset.
"I phone 5 yeahhhhhh!!"
Aston Villa
's injured midfielder
Gary Gardner
is off crutches now, and might be relying on his new phone to keep him entertained during rehab.
"iPhone 5 has arrived! Goodbye blackberry #ItsBeenEmotional"
Norwich
man
James Vaughan
is one of the many converting to the new device.
"i have converted. in comes the iPhone out goes the bb"
As is
Manchester United
midfielder
Tom Cleverley
. But enough about phones, let's get onto some controversy!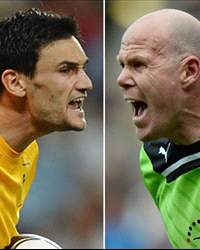 "Just saw barthez comments. I normally don't comment on such crap but when disrespected by someone I don't respect I must."
"Barthez was ignorant, disrespectful and out of order to mention my name."
Brad Friedel
doesn't take kindly to former French keeper
Fabien Barthez
's comments about
Hugo Lloris
being a better choice than him for
Tottenham
.
"a special game for me tonight being captain and leading the team out at WHL great feeling, roll on Sunday need to get our 1st win at home"
While
Aaron Lennon
reflects on his first game as captain of
Tottenham
. It's not likely to be a long-term gig for the winger, but at least he enjoyed it.
"Good to see @Aaron7Lennon captaining the team. Could do with a smaller band though bicep ain't quite filling it! Seen it slipping!!"
And
Sunderland
forward, and former
Tottenham
loanee,
Fraizer Campbell
send his unique congratulations to
Aaron Lennon
.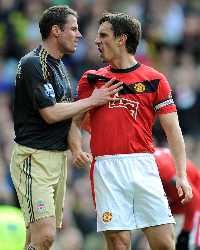 "Lots of people ask how do you stay neutral on days like Sunday. It
doesn't change from being a player. You want your team to win but if they
"Don't play well you say you've not played well. Fans of UTD/Liv on Sunday leaving the grounds won't con themselves saying we should have
"Won if they have been battered. It is possible to want your team to win and say when they haven't played well and deserve to lose."
Gary Neville
lets people know how he remains impartial when his former team
Manchester United
plays a crunch game against rivals, like against
Liverpool
on Sunday.