It's always a quiet week when footballers leave for the international break. With club players losing the camaraderie of their dressing room to travel thousands of miles to represent their home nation, it can sometimes leave them with little to say.
Not so, in the world of Twitter, as we take a look at a range of topics, taking in coffee, operations, and, rather strangely, the American Presidential election.
Please join us as we take a look at
The Word on the Twet
...
"Bill Clinton is up there with the best public speakers ever....definitely worth watching his speech from last night people."
You know what,
Rio Ferdinand
, WOTT will do that. Now stop pretending you were watching the American Presidential race and take Drake off pause.
"Starbucks refuel with the boys, next stop Cardiff alongside thousands of Belgian fans!"

Vincent Kompany
and his Belgium team-mates top up on caffeine ahead of their game against Wales.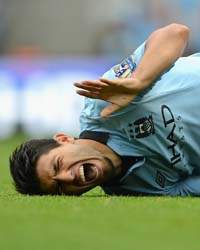 "It's a shame I can't be there but physicians recommended I continue with the recovery - that means I won't travel to Cordoba with the team

"It's always harder from the sidelines but I'll be supporting the National Squad every second of the match. C'mon Argentina!!"
Crocked striker
Sergio Aguero
(pictured, right) is feeling physical and emotional pain after being unable to play for Argentina.
"In Pontevedra and with amazing views from the hotel. Today, last training before tomorrow's friendly against Arabia!"
However, not-crocked-anymore striker
David Villa
is all smiles now he is back on the pitch.
"Morning peeps starting to feel back to normal again, swelling gone down and moving around better, gonna do all my fan mail today #support"
The injury news continues as
Jamie O'Hara
is well and truly back on the mend. Hoorah!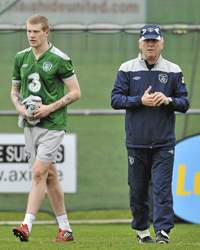 "Feeling more awake and better now after my operation wanna say thanks again for everyones support means alot! #Illbebackwithabang :)"
And so is
Gary Gardner
. Hoorah again!
"Clear eyes! Full hearts! Cant lose!"

James McClean
(pictured, left) is obviously thrilled after being deemed fit enough to travel with the Republic of Ireland squad to face Kazakstan.
"Even when i'm away on international duty, i always think about getting back to #bcfc training ground. Something about that place ;) #Habits!"
And, finally,
Nathan Redmond
gets Birmingham City fans' hearts fluttering with this heart-felt message. Awww.