With some teams just starting to gather some winning momentum and others, well, not, the first international break of the season comes at a strange time only three games into the new Premier League campaign.

However, footballers of the Twittersphere world never take such a break. In fact, Eden Hazard, Charlie Adam, Jonjo Shelvey and Tim Krul are all looking ahead to joining up with their national team-mates.

Elsewhere, Gary Neville offers his opinion on the Cristiano Ronaldo situation, brother Phil uses the break for family matters, Rio Ferdinand talks about Paolo Di Canio's keeper bust-up. It's all here, in the Word on the Tweet ...





"in brussels for national team…"



Chelsea's star man Eden Hazard is ready to carry his incredible Premier League form into Belgium's World Cup qualifiers with Wales and Croatia.





"Can't wait for next 2 matches. Serbia and Macedonia at home. Atmosphere gonna be incredible on sat"




Stoke new boy and Scotland international Charlie Adam can barely contain his excitement for linking up with his compatriots, with Craig Levein's men hosting Serbia at Hampden Park on Saturday.





"Training done .. Time too fly too Azerbaijan lonnggggg flight ahead !!!"



Adam's former Liverpool team-mate, Jonjo Shelvey, is one of a number of Reds included in Stuart Pearce's England U-21 squad for their upcoming internationals, however, the midfielder bemoans the lengthy flight.





"Back in Holland to report for the National team.. 2 important World cup qualifiers against Turkey and Hungary in the next 10 days!"



Newcastle keeper Tim Krul knows what is at stake for the Dutch side after a dismal Euro 2012 campaign. Louis van Gaal's men face Turkey at home before a trip to Hungary.





"Last day off school for my babies today going to make the most of it before the school routine starts again!"



Phil Neville, no longer involved with the England squad, is using the break from domestic football for other reasons as the school schedule looms round the corner.





"Cristiano sad at RM its saying. I'm not sure he's ever been happy there. ( my words not inside knowledge). I told him he'd miss Jam Roly!!"



Meanwhile, Phil's brother Gary Neville suggests Cristiano Ronaldo was never settled at Real Madrid, after the former Manchester United man revealed he is unhappy at the Spanish giants.





"Di Canio went raw on his young goalkeeper, hope the young lad is strong enough to come through this...harsh start to league 1 football"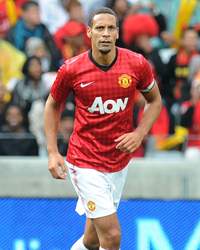 WOTT regular Rio Ferdinand has his say on Swindon boss, and former on-field sulker, Paolo Di Canio falling out with keeper Wes Foderingham after the 21-year-old reacted badly to being subbed 20 minutes into a game,





"It's completely ridiculous that a new manager's job can be under threat after 3 games. Patience, not panic please!"



With new managers at Liverpool, Tottenham and Aston Villa all suffering poor starts to the new Premier League season, Gary Lineker is shocked that they have already fallen under pressure.





"Dave weir #teamGB what a hero paralympics wheelchair 5000 metre gold medalist amazing power."



And finally, Southampton striker Billy Sharp enjoys Dave Weir's incredible Gold medal in the Paralympics.