The
Premier League
is well and truly back as
Manchester United
's surprise loss at the hands of
Everton
following an enthralling contest proved.
But, of course, such matters aren't the only important thing going on in the minds of those who make the English top flight so great.
There's computer games, swearing, and laziness, all in
Goal.com
's latest offering of
Word on the Tweet
.
"Great victory by Everton... Congrats to @Johnheitinga and to @Persie_Official with his debut for Man Utd!!!"
Wesley Sneijder
congratulates two of his
Netherlands
team-mates who enjoyed contrasting fortunes in their opening Premier League match.
"Morning all got about 2 hours sleep but never mind that's the norm after a night game-recovery now massage ice baths-villa next Saturday!"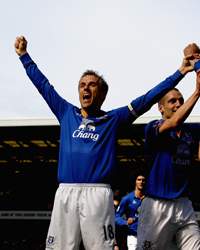 Fresh from starring in the Toffees' 1-0 win over
Manchester United
,
Phil Neville
is already getting ready for their match against
Aston Villa
.
"I want to stay on the bed! Haha Have a great day #geezers"
Chelsea
's
David Luiz
is not too keen on the prospect of facing the world.
"To be on the front cover of Fifa 13 is an honour and something I'm definately proud of! Grateful for this opportunity #Fifa13"
It's what all footballers dream of ... being on the cover of the latest edition of Fifa? Well, at least
Alex Oxlade-Chamberlain
is happy.
"Really couldn't be arsed correcting everyone that calls me Joey. Not as precious to demand that people call me Joe. Just remember if you call me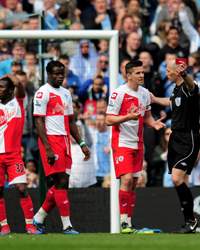 Joey when we meet. I will instantly in my head be thinking, "What a f*****g b*****d this cat is!" FYI #callmewhatuwant"
The first of a
Joey Barton
double-header (Twitter handle: @Joey7Barton).
"The only Daily Mirror I subscribe to is in the bathroom next to the bog. Lot of similarities between the two. Ones full of s**t, the other you wipe your arse with? You decide…"
Barton
airs his views again.
"@JMcEachran20 good luck tonight mate hope you enjoy the game, do well and show people your ability"
Ashley Cole
wishes his
Chelsea
team-mate
Josh McEachran
good luck ahead of his
Middlesbrough
match against
Burnley
.