On the eve of the new
Premier League
season, football kicked up a gear with
Robin van Persie
's move from
Arsenal
to
Manchester United
.
Some players were looking to psyche themselves up ahead of the opening day, whilst others looked to wind down and relax.
And, as ever, some were getting up to other things entirely. This is
Word on the Tweet
.
"Just been writing a little football boot related blog. Its that time of the season, all the new boots are out and it got me thinking...
"..what were my favourite boots as a kid. Some belters I can recall now.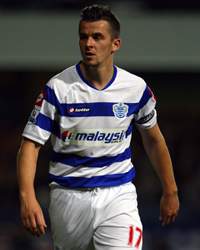 Anyone remember cica blades? #rascals"
One person not getting excited about the return of football is
Joey Barton
, the QPR man using his suspension time wisely, blogging about some classic football boots.
"Just saw a guy eat a bogey at the lights! do you roll + flick, eat or wipe bogeys?! #debate"
Our daily look into the weird and wonderful world of
Rio Ferdinand
, who discusses his nostril habits with his followers.
"Just met our new signing oscar wow he looks young but I'm sure he will do very well with us this season, good luck to him #cfc"
You were a young man once,
Ashley Cole
. The Blues' full-back is impressed by the Brazilian new boy.
"As a friend and team mate of mine for the last 8 years i want to wish good luck to @Persie_Official and his new adventure at Man United."
As RVP heads to Old Trafford,
Cesc Fabregas
, who also jumped ship from the Emirates a year ago, offers his congratulations.
"Was good to train with RVP today. Cant wait for the new season now!"
And the Dutchman makes a good impression at Carrington,
Tom Cleverley
delighted to link up with Van Persie.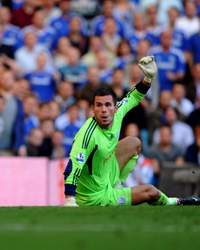 "Afternoon all, whos buzzing for tmrw!?Love friday nights, kids in bed, traditional friday night chinese takeaway and bed! #suh-weeeet COYB"
The eve of the new season. How else to prepare than a Chinese takeaway with West Brom keeper,
Ben Foster
.
"Bet all the football fans are excited about the start tomorrow.. I know all the players are #letsgetstarted"
John Arne Riise
is also looking forward to the big kick off.
"Would love to go v fest with boys tomorrow but Chelsea away Wednesday means a quiet weekend"
Yeah
Danny Guthrie
, I'm sure loads of people would rather stand in a muddy field listening to Nicki Minaj than play professional football this weekend.
"Never fails to amuse me when welsh folk call David Beckham, Dai Becks!!"
Bringing the LOLs Welsh style with
Swansea
defender,
Ashley Williams
.