Joey Barton
: Footballer, website owner, Twitter enthusiast...
England
manager?!
The QPR midfielder is lining up a role with the Three Lions after being being unsatisfied with Roy Hodgson's picks for the national side's friendly with Italy on Wednesday night.
Elsewhere, Rio Ferdinand disagrees with Barton (who'd have thunk it!) and Michael Owen marvels at his Old Trafford replacement in
Word on the Tweet
.
"Carrick/Lampard great players but will be about 40 by the time the next world cup comes round. What is the point? Shambles"
When Hodgson inevitably goes I'm going for that job. Shake up required..."
QPR midfielder
Joey Barton
needs something to do while he serves a 12-game ban and eyes a move into management to pass the time.
"Carrick is one simple but effective player....just what we need. The simple things in football are hard to do consistently well"
But what does Joey know?
Rio Ferdinand
sticks up for his Manchester United team-mate after a good showing against Italy in Switzerland.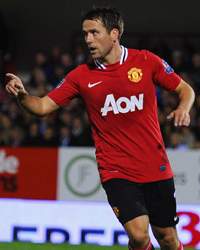 "Rooney, Van Persie, Berbatov, Wellbeck, Hernandez. Do strike forces get any stronger?"
Surely only
Michael Owen
would improve the goalscoring potential at Old Trafford next season. Actually, that sounds familiar...
"Loving listening to the king on the DAB this morning. Non stop hits!! Cant believe it's 35 year since he left the building"
The musical choices of footballers often leave much to be desired but
Kris Commons
displays a refreshing love for Elvis Presley. Thank you very much for that, Kris.
"Just with my good friend Danny Gabbidon having a Starbucks. Waiting on Robert Earnshaw shock he's late"
After suffering a disappointing defeat to Bosnia with Wales, the last thing
Joe Ledley
wants is to be hanging around waiting for Rob Earnshaw to show up for a frappucino.
"Not a good start to my day when Ryanair lose ur bag and all they say is we will TRY and recover ur bag. U better get my bag back"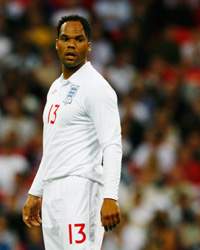 You have been warned Ryan Air.
Simon Cox
is not a happy chappy.
"A lot of tweets about the beard, it will be good this weekend. Will grow it back from the cold winter ahead in Manchester"
Joleon Lescott
sported some new facial fuzz while playing for England on Wednesday night and confirms it will be utilised to fight off the frost later in the year.
"Back in Stoke this morning, training later, getting ready for the weekend!...I need to sort my fantasy team out also, who should I put in???"
A pre-season tradition for many fans but Stoke shot-stopper
Asmir Begovic
also stresses over his fantasy football picks. Hope he's got his comedy team name planned too.